January 16th, 2018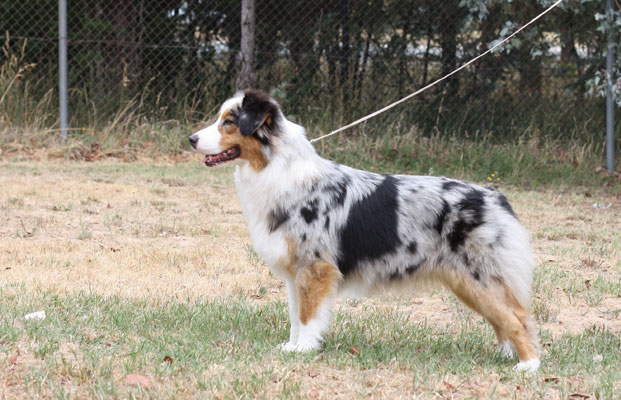 The Australian Shepherd is animated, enthusiastic and eager to please. It is a highly intelligent and dependable breed, thriving on attention and social interaction.
Australian Shepherd Facts
Personality:
The Australian Shepherd is animated, enthusiastic and eager to please. It is a highly intelligent and dependable breed, thriving on attention and social interaction.
Suitable for:
The Australian Shepherd enjoys being part of the family, interacting well with children and other animals. They thrive on exercise and activity, so need a reasonably sized backyard to run around in.
Favourite activities:
Boasting intelligence, strength and agility, the Australian Shepherd oozes potential and enjoys obedience, agility (including fly-ball and Frisbee) and swimming.
Watchdog qualities:
This breed has strong herding and guarding instincts. They can be shy and therefore reserved with strangers, but are undoubtedly loyal to the family and will certainly let you know when someone arrives.
Hereditary diseases:
The Australian Shepherd is healthy overall, howe'ver it goes without saying that purchasing your dog from a reputable breeder who checks for health problems reduces the risk.
Aussie, Aussie, Aussie!
The strong and dependable Australian Shepherd is a trusty working dog with a great sense of fun. Lucy Arblaster finds out why Aussies are such popular pets.
Animated, intelligent and dependable, the Australian Shepherd is a stunning breed boasting immense strength and agility, with quite a reputation as a working dog. Affectionately known as Aussies, this breed is full of potential and enthusiasm, adores children and thrives on family interaction.
Their exact origins somewhat uncertain, the Australian Shepherd is believed to have travelled to America in the late 1800s with flocks of Merino sheep and the Basque shepherds who tended them. This is also how they got their name, because of the link between Australia and the herding of Merino sheep.
In America, Australian Shepherds were used to work sheep and cattle, and while they remain a reliable working dog today, the breed also excels at obedience, tracking, agility and related activities, such as Frisbee and fly-ball, as a show dog and a very popular family companion.
A medium-sized dog with a coat of medium length, the Australian Shepherd comes in a variety of colours blue or red merle, black or red. The breed can have a long tail or naturally bobbed tail.
Some Australian Shepherds are known to grin, an endearing characteristic, which should not be mistaken for a snarl.
Breeder Susan Omundsen from the Australian Shepherd Association of NSW Inc. has been involved with the Australian Shepherd for nine years. I became friendly with a woman who had two Aussies, and it was love at first sight. They are so beautiful, clean, no smell; but what attracted me most was their sense of fun. They have an amazing sense of humour, and they're always smiling, explains Omundsen.
Aussies take joy in the simplest things, and that joy is infectious. They are very easy to train if they want to be. You need to persuade them that training will be fun, because they certainly have their own minds and ideas about things. Like all good working dogs, they have the ability to make their own (good or bad) decisions about situations, so owners need to establish themselves as firm and loving pack leaders, says Omundsen.
Omundsen tells Dogs Life how her Aussies love nothing more than curling up with her to watch TV, or following her around the house. She says they will watch very carefully what you do.
My dogs love chasing balls, and they have evolved the game so that one dog catches the ball, then runs off and hides it. Then the others go and find it. My dogs favourite thing, however, is swimming at the beach, in the river, in waterholes. They do huge, high jumps from the rocks into their river although one bellyflops, laughs Omundsen.
Aussies are very fast and agile they can turn on a sixpence and are expert swimmers. They are great for agility, fly-ball and Frisbee. You name it, they can do it, says Omundsen.
Omundsen says Aussies are very good judges of character, summing people up immediately. I always know if they don't like someone, because suddenly they casually insert themselves between me and the other person, says Omundsen.
Aussies will guard the home, car and people very effectively, using their bodies to stop a person advancing, and will growl ferociously. This is usually enough to stop anyone, explains Omundsen.
Aussies don't suit the sort of person who sees a dog as something to be commanded and dominated. You need to be the boss, but if you want a dog that will obey your commands like a good little robot, an Aussie is not for you. My guys will often look up when I call and ask if they can finish what they are doing, says Omundsen.
Omundsen says if Aussies are brought up with children, they are wonderful. She says, like most dogs, if they don't know the children and are confronted by them they are likely to be wary because children can be unpredictable. Susan says Aussies can also be shy if they are not well socialised as puppies.
My dogs love all animals. They love the neighbours horses and find birds completely intriguing. As with children, if they are brought up with other animals, Aussies are great companions, explains Omundsen.
Omundsen says Aussies have been described like jelly beans you have to have one of every colour, and once you have started with them, you wont stop. Such thinking, intelligent animals are not for everyone. They think a bit like people, and you need to think a lot like a dog to have an Aussie. They are so smart and will sometimes outsmart you you have to enjoy being made to look silly by a wriggling, grinning canine, and some people don't, explains Omundsen.
Another admirer of the Australian Shepherd is Sydney veterinarian, Dr Rob Zammit. He has been involved with the breed for 12 years, and was initially attracted to them because of their outstanding temperament.
The Australian Shepherd overall has a great temperament. They are a very nice-looking dog, aesthetically pleasing to the eye, says Zammit. He tells Dogs Life that the Aussie is very easy-going and is not a dog that needs a lot of work. However, in saying that, he stresses that they can take the work. People have used them for working and they are great working dogs, slipping into a natural role even though, in truth, their origins still remain uncertain.
Their three best activities are agility, agility and agility. They are good to train in obedience, and during the first 12 months you think, Oh my, have I got the stupid one?, but they just take a while to click in. They have a lot of energy, but they will also lie down beside you on the lounge, explains Zammit.
He describes the breeds exercise requirements by saying, They can get away without it, but they deserve it.
Zammit says the best thing about the breed is its lack of health problems. They shed their hair twice a year, and you just need to be prepared for it. He advises keeping the feathering free from matting, especially behind their ears.
Summing the Australian Shepherd, Zammit says, They are awesome with kids (kindy age and upwards). They are a great breed of Australian dogs.
Breed Care
Care of the breed
Daily:
The Australian Shepherd will benefit from regular exercise and/or activity every day to keep it fit and happy. Fresh water, shelter and a well-balanced diet go without saying for this breed.
Weekly:
A weekly brush and a bath when necessary will keep this breeds coat in excellent condition.
Monthly:
Like any other breed, the Australian Shepherd should be treated for heartworm, ticks and fleas, and nails should be trimmed regularly.
Breed Contacts
For more information on the Australian Shepherd, contact your nearest club or the Australian National Kennel Council at www.ankc.org.au.
Australian Shepherd Association of NSW Inc: www.australianshepherds.org.au/
Australian Shepherd Club of Victoria Inc: www.australianshepherd.org.au/; (03) 9798 1221
Australian Shepherd Club of Qld: (07) 5546 9768
In New Zealand, please contact the New Zealand Kennel Club via www.nzkc.org.nz
Love our breeds? Find your new best friend on our
DOGSLife Directory