December 7th, 2015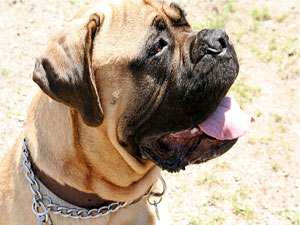 A large and powerful dog, the American Mastiff was only recognized as a purebred in 2000. The breed is characterised by their large feet, long dark snout and tendency to drool less than its Mastiff cousins.
Facts
Personality: The American Mastiff is often considered a gentle giant. The breed display loyalty and protectiveness but are not aggressive by nature. They become attached to their family, especially children, and take on the responsibility of courageous defender and should therefore be leashed at all times to avoid trouble with other dogs.
A great dog for: The loyal and loving nature of the American Mastiff make the breed perfect for families. Clear leadership must be determined by humans in the early stages of the dog's life.
Favourite activities: Spending time with human family, walking, lazing around.
Backyard requirements: This breed of couch potato do well indoors and tend to grow lazy with age. A daily walk or run around a fenced backyard will suffice for exercise.
Breed Care
Grooming: The short fur coats tend to shed so owners with allergies might have an issue living indoors with the Mastiff. The coat can be brushed with dry shampoo for a clean finish. The wrinkles around the face should be cleaned regularly to avoid food and waste getting caught.
Want more articles like this? Subscribe to Dogs Life Magazine
Love our breeds? Find your new best friend on our
DOGSLife Directory