January 20th, 2009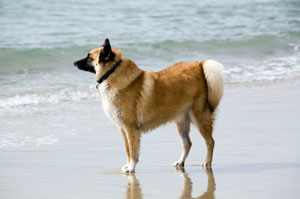 Akita
Achieving some 70cm in height and 50+ kilos, the Akita is, and looks, a dignified, powerful, graceful large dog with a relatively short but very dense coat, small pricked ears and thick tail tightly curled over the back. Although amenable to training, this is not a breed for the novice dog-owner.
Breed Care
Big dogs need lots of space and the Akita is no exception. Room to run and play, to get all the exercise they need to keep fit and healthy in both body and mind, which in this case is a fair bit. Socialisation is vital with the Akita and must go hand in hand with obedience training.
Coat care in this breed is relatively simple, involving thorough brushing of the short, stiff outer coat every day or two and keeping the dead undercoat moving during the twice-a-year coat change.
Love our breeds? Find your new best friend on our
DOGSLife Directory