August 26th, 2008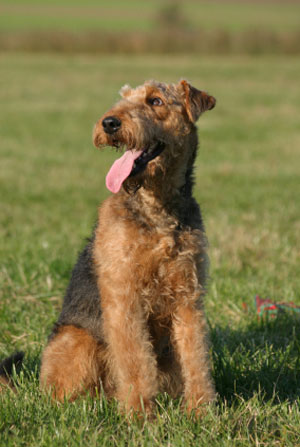 Facts
Personality: Lively, intelligent, loyal and affectionate, the Airedale Terrier loves spending time with his people and being included as part of the family.
Suitable for: Airedales are suited to people who enjoy spending time with their dog/s and will include them as part of the family. They enjoy getting out and about and make a great companion, but as with all breeds, the Airedale will need to be supervised around young children.
Favourite activities: The Airedale, given positive training, can excel in obedience and agility. They love playing games, running in the park, travelling in the car or lazing around generally anything you want to do!
Watchdog qualities: The breed is an excellent guard dog and will let you know if anything strange is happening near home. If they do bark its best to check out why.
Backyard requirements: The Airedale will happily exercise in a good-size yard but loves getting out for a daily walk. They also love spending time inside the house but guardians must be prepared to share the couch!
Breed Care
Daily: Fresh water and a balanced diet. Will exercise well in a good-sized yard but does enjoy a daily walk.
Weekly: A good comb weekly will help keep the coat in shape. Other than that, a good clip approximately four times a year and a trim once a month, says Rebecca. Show dogs will need more attention.
Monthly: Regular nail trimming and ear cleaning. Bath once a month or when necessary.
Regular: Gastro-intestinal worming, heartworm and vaccinations.
Hereditary diseases: Hip dysplasia. A good breeder will always hip score their stock and allow potential paren'ts to view the hip scores.
Breed Contacts
Canine control councils
Please visit the Australian National Kennel Council website www.ankc.aust.com and scroll down to the map of Australia. Just click on your state for more information about your local canine control council or contact the numbers below.
NSW (02) 9834 3022 or 1300 728 022 (NSW Only)
ACT (02) 6241 4404
Vic (03) 9788 2500
Qld (07) 3252 2661
NT (08) 8984 3570
WA (08) 9455 1188
SA (08) 8349 4797
Tas (03) 6272 9443
To visit the New Zealand Kennel Club go to www.nzkc.org.nz
Love our breeds? Find your new best friend on our
DOGSLife Directory