February 22nd, 2015
Would you like to provide some feedback on an article you read, tell how a story has helped you make a positive change in your life or comment on the look of the magazine? It's easy.
Email dogslife@universalmagazines.com.au or address your letters to Dogs Life Bark Back, Locked Bag 154, North Ryde NSW 1670, and check the magazine to see if it was printed.
The author of each issue's winning letter will receive a fantastic waterproof dog coat from WeatherBeeta worth $49.95 (see pictured). WeatherBeeta's Parka Dog Coat offers a strong, waterproof and breathable 600 Denier diamond weave outer to keep your dog comfortable and protected against the elements. The Parka also features a warm 220g of polyfill, touch tape on the chest and an adjustable belly closure. It is available in navy/red/white in 25cm-80cm, chocolate/ocean argyle in 30cm-70cm and purple dog pattern in 30-70cm.
To view the full range, visit www.weatherbeetadog.com.au or search for WeatherBeeta on Facebook.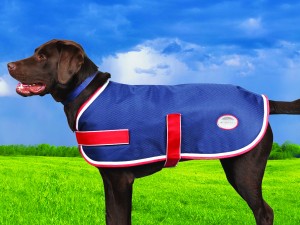 Please note: letters are submitted on the understanding that they may be edited for length, style or grammatical reasons before being published
Please remember to sign in and update the Contact Info for Competition section and read the Condition of Entry before entering.
For more great ideas, visit our
DOGSLife Directory