June 16th, 2016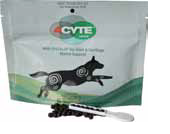 Are you thinking that your dog is getting older, it limps and won't walk as far as it used to? As they age, many dogs develop sore and painful joints that result in lameness. There are several possible causes, but one of the most common is osteoarthritis. Cooler weather conditions seem to exacerbate the symptoms. Things to consider when choosing a treatment are treatment safety, treatment effectiveness, and if new medications may be better than existing ones. Are there options for older animals that are sensitive to NSAIDs (non-steroidal anti-inflammatory drugs) or that have renal disease?
Always consult your veterinarian as each case requires a tailor-made regimen which may consist of rest, exercise, weight management and the support of medication to give them the most pain-free mobility possible.
Many dog owners are tempted to utilise products that have not had formula/brand-specific research to prove their safety and efficacy. 4CYTE Canine has undergone both invitro and clinical studies and has been developed to specifically work proactively, helping to maintain the matrix of cartilage and overall joint health.
4CYTE Canine is a safe and unique formulation with the inclusion of a new active ingredient Epiitalis, which has been patented to stimulate cartilage cell growth. With osteoarthritis being one of the most common canine diseases, affecting approximately 25 per cent of the total dog population, make sure you support your furry friend's joints before the cold weather hits.
For more information, visit 4cytevet.com
Dogs Life has 2x 100g 4CYTE Canine packs to give away. **To enter, please leave a comment below telling us in 25 words or less why you and your dog would love to win**
Entries close 12pm August 25, 2016 and will be judged on September 8, 2016.
Please remember to sign in and update the Contact Info for Competition section and read theCondition of Entry before entering.
Please remember to sign in and update the Contact Info for Competition section and read the Condition of Entry before entering.
For more great ideas, visit our
DOGSLife Directory