November 5th, 2014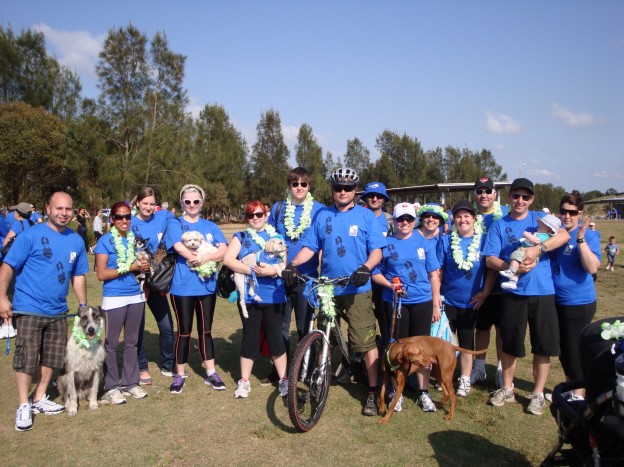 People with Motor Neurone Disease need the support of family members and friends, and often feel isolated. Pets often have the magical ability to relieve that isolation. The Sydney Walk to d'Feet Motor Neurone Disease (MND) will take place at Blaxland Riverside Park at Homebush Bay on November 9, 2014.
Each year, more than 20 pets take part in the event. They wear blue bandanas with the logo of MND NSW bring a lot of fun to the event and arouse the curiosity of people who happen to see them.
Jackie Mears, who lost her dad to MND, took her boyfriend's German Shepherd to the Walk to d'Feet for three years. She and her brother became their father's full time carers at a young age. The dog "Rats", an important family member, also took on the role of companion.
Rats brought a lot of fun to Jackie's father and the whole family during the tough days. "Dogs have a sixth sense. When people are upset, he understood and showed love. When special things happened, he could sense it and bark to bring people together." says Mears.
"There is still no cure for MND, but dogs can help improve people's moods."
For further information about the event, visit www.mndnsw.asn.au
Event: Walk to d'Feet MND
Where: Blaxland Riverside Park, Homebush Bay
When: November 9, 9:00am
Cost without a t-shirt: Adult $25, Child 5-16 years $8, Dog $6
Cost with a t-shirt: Adult $30, Child 5-16 years $12
Register here before November 2 to get these earlybird prices.
Check out the latest animal attractions and events at our all-new
DOGSLife Directory