April 4th, 2014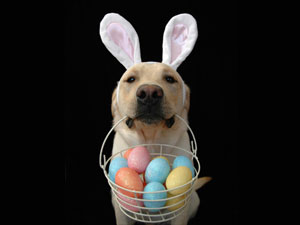 Veterinarians at Sydney's Animal Referral Hospital are warning pet owners to watch out for toxic Easter treats such as chocolate eggs and hot cross buns.
Many family pets end up in veterinary hospitals over Easter due to poisoning, says Dr Sarah Goldsmid, specialist small animal surgeon from ARH, Australia's leading 24-hour veterinary hospital.
"Chocolate poisoning in dogs is a big problem, particularly dark chocolate, which contains a higher level of the toxin 'theobromine'," she says. "Dogs with chocolate poisoning can get anxious, hyperactive, start vomiting, diarrhoea and potentially collapse and die."
"Grapes, sultanas or raisins are also toxic to dogs, so make sure you keep hot cross buns out of reach, as even one or two buns can be a problem," she adds.
Pets eating leftovers, ham bones and other cooked bones can also be dangerous. Fatty meals can cause life-threatening pancreatitis and bones can cause death by choking. Also, onions and garlic can destroy a dog's red blood cells, leading to anaemia.
"Keep pets away from Easter treats and avoid unnecessary trips to the vet," says Dr Goldsmid. "For more advice, contact your local vet."
Check out the latest animal attractions and events at our all-new
DOGSLife Directory