May 5th, 2014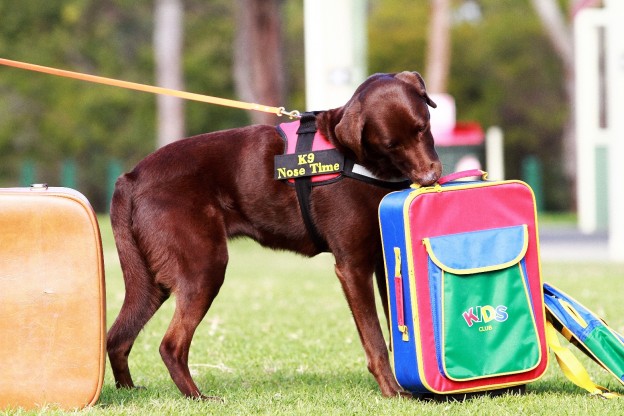 K9 Nose Work® is a fun search and alerting sport for all dogs and owners, and there's no reason why you and your dog can't learn it, too, says Marion Brand, who is in the process of becoming the first Certified Nose Work® Instructor in Australia and runs the sport through K9 Nose Time in Sydney.
"K9 Nose Work® involves 'unleashing' your dog's natural abilities to hunt and indicate the find, which also builds their confidence. It's excellent for shy, fearful, elderly or reactive dogs, and keeps them fit and healthy through mental and physical exercise," she says.
The 'target odours' that dogs are trained to find are common essential oils. When competing in K9 Nose Work®, dogs are judged on their speed and accuracy in finding and alerting their handlers to the target odour, which may be hidden inside cupboards, in cars, suitcases and bushes, just like real life scenarios.
"Any dog can do K9 Nose Work® and owners are thrilled to see how their dogs love using their nose in the excitement and anticipation of the hunt. It is like an Easter egg hunt for dogs! The sport also strengthens the dog and owner bond," she says.
Learn K9 Nose Work from the founders!
K9 Nose Time will host a seminar about K9 Nose Work® in Sydney on May 28, presented by Jill Marie O'Brien, co-founder of K9 Nose Work® and the National Association of Canine Scent Work (NACSW), LLC™.
"I am very excited for having the opportunity to share the value and fun of using K9 Nose Work® in a variety of ways to enhance the human animal bond," says Ms O'Brien, who will also speak about the K9 Nose Work® Shelter Project she launched in the US.
"The project has been very successful in America, helping many shelter dogs overcome behaviour problems and develop confidence and focus, which ultimately increases their chances of re-homing," she says. "I'm excited to pass on this great success story in the hope that Australian shelters and rescue groups can also enjoy all the benefits and successes K9 Nose Work® can bring to them."
Event details
Date: Wednesday, May 28th 2014
Time: 7 – 10 pm
Location: George Bell Building, Castle Hill Showgrounds, Castle Hill, NSW
Tickets: $40
For more information about the seminar or to register, visit http://k9nosetime.com/
Check out the latest animal attractions and events at our all-new
DOGSLife Directory