May 7th, 2014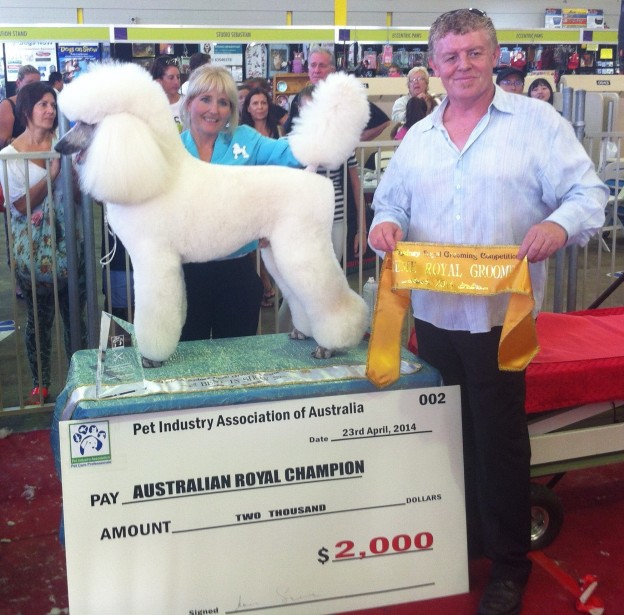 For the second year in a row, Victoria proved 'Supreme' at the Sydney Royal's prestigious grooming competition hosted by the Pet Industry Association of Australia, which showcases the handiwork of the very best dog groomers from around Australia.
Certified Master Groomer Kylie Tatti of Melbourne was crowned Supreme Royal Groomer as well as Best in Show with her snow-white Standard Poodle, Shaggy.
"But 'Shaggy' no more – she went from scruffy to fluffy!" laughed Tatti, who went home with $2750 prize money and the prestige of winning the country's top grooming contest.
Showing or competing at a Royal Show is for many competitors the peak of their achievement and something they strive to achieve in their discipline, and it's the same for groomers, explained Karen Swan, Grooming Director of the Pet Industry Association.
Tatti, who runs Clippers Expert Hair Care grooming salon, Clipperworld grooming supply store and the Victorian College of Dog Grooming, said she worked very hard to prepare for this competition, practicing many hours on fine tuning her skills.
"The win was amazing! My inspiration is my mum, who is also a groomer and taught me everything I know," she said. "The Sydney Royal atmosphere was also great. So many people were happy to see shaggy dogs turned into amazing and beautifully shaped powder puffs by true grooming artists. Thanks also to all the great sportsmanship of all the competitors, they all did amazing work and they know who they are!"
Tatti clipped, scissored and trimmed against four other top dog groomers – Wendy Wouters of New South Wales, Amy Jones of South Australia, Vanessa Parsons of Queensland and Laura Raabe of Western Australia. These groomers were winners of last year's Royal State by State grooming challenge hosted by the Pet Industry Association, in conjunction with the Royal Agricultural Shows in the groomers' respective States.
This year's Royal is special because it is the first time that all (Royal Shows) states are participating, including Western Australia, added Ms Swan.
The Sydney Royal Groomer title was awarded to Annett Whitelum, Certified Master Groomer from NSW's North Coast, who will compete next year for the 2015 Supreme Royal Groomer title.
"Winning this award means a great deal to me," said Whitelum, who runs Turners & Pooch Pet Salon. "It was also a bit of a surprise as I entered the competition to catch up with my fellow grooming competitors from around Australia and give my dog a much-needed haircut!"
For more information about the Royal Grooming competitions, please contact the Pet Industry Association via www.piaa.net.au
Check out the latest animal attractions and events at our all-new
DOGSLife Directory