October 17th, 2013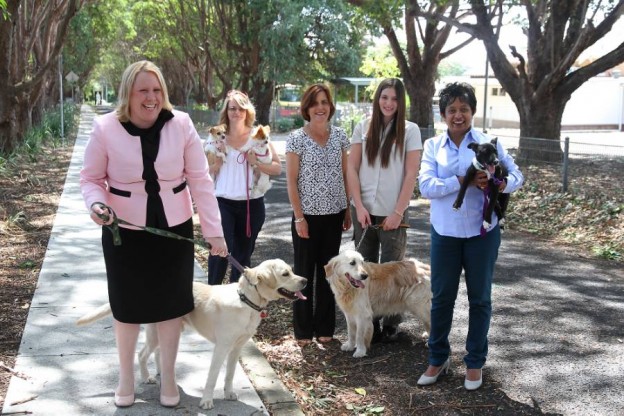 Head to Balcombe Heights Estate on Sunday 20th October to participate in the Pawsitive Steps Towards Mental Health Walk and Paws in the Park events.
The annual Paws in the Park event has joined with the Pawsitive Steps walk, with all money raised going towards to The Hills Mental Health Interagency to assist them in the vital work they do in the Sydney Hills.
Mayor Byrne, a passionate mental health advocate, said the Pawsitive Steps event will be a great way to kick off the day at Balcombe Heights Estate.
"The Hills Mental Health Interagency do a wonderful job and we hope that many will participate in what will be a fun morning," she said. "It's not just for dog owners – anyone can participate – but of course our four-legged friends are more than welcome.
From 10am onwards, the annual Paws in the Park event will start, with celebrity vet Dr Katrina Warren heading up a list of dog-related entertainment which includes her famous Wonderdogs.
"It's a great day out for dog lovers with plenty of stalls, entertainment and representatives from a number of community associations like Doggie Rescue, Animal Welfare League, Staffie Rescue, Sharpei Rescue and DCH Animal Adoption."
Pawsitive Steps Towards Mental Health
2 or 4 km walk to raise funds for Hills Mental Health Interagency
When: 9-10 am Sunday October 20
Where: Balcombe Heights Estate, 92 Seven Hills Rd, Baulkham Hills
Register: http://pawsitive2013.eventbrite.com.au
Paws in the Park
A fun, free day out for dogs and their owners
When: 10 am – 3 pm Sunday October 20
Where: Balcombe Heights Estate, 92 Seven Hills Rd, Baulkham Hills
Web: www.thehills.nsw.gov.au/Paws-in-the-park.html
Check out the latest animal attractions and events at our all-new
DOGSLife Directory