July 20th, 2016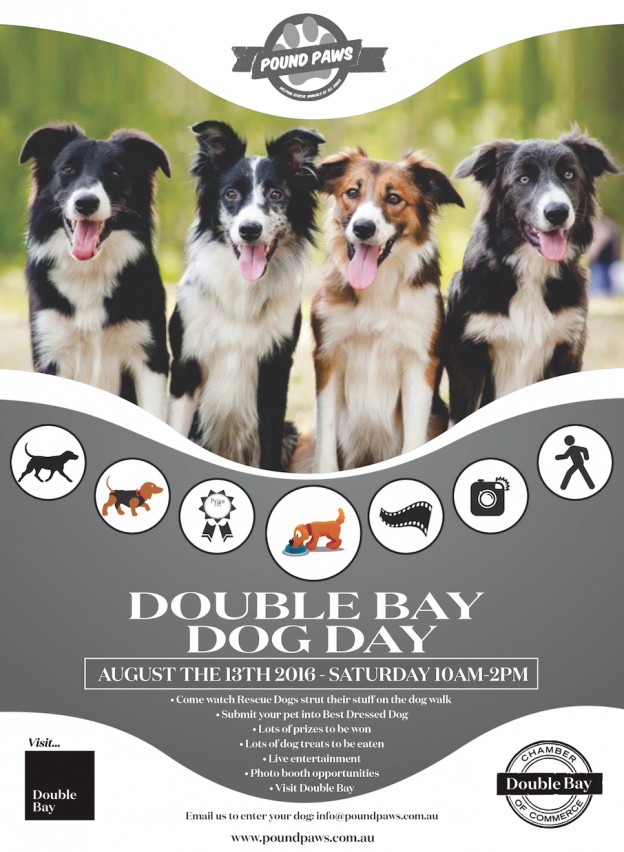 Saturday August 13
10am-2pm
Celebrate and encourage dog rescue in Double Bay with Pound Paws this August! The fundraising event will be filled with lots of fun activities for humans and dogs alike.
Lots of cute dogs available for adoption from different pounds and rescue centres across NSW will take part in the Rescue Dog Walk. There will also be dog competitions for your pooch to enter including 'Best Dressed Dog' and 'Best Dog Walk/Trick. Register your dog today by emailing: info@poundpaws.com.au.
Other activities on the day will include live music entertainment, stalls (vegan health food, dog wash, milky lane, and dog treats), face painting, a pop up photo booth and much more.
Help raise awareness about the importance of choosing to adopt, not shop, raise much-needed funds and have fun!
Pound Paws is a non for profit organisation based in Australia which assists in the re-homing of dogs and cats in Australian pounds and rescue centres. It provides the first of its kind search engine in Australia which allows you to search for breeds, age, size and lifestyle match for pets available for adoption all over Australia. For more information, visit www.poundpaws.com.au.
For more information on the event, visit https://www.facebook.com/events/1036880879736063/
Address:
Guilfoyle Park, Double Bay
NSW 2028
Check out the latest animal attractions and events at our all-new
DOGSLife Directory