April 7th, 2016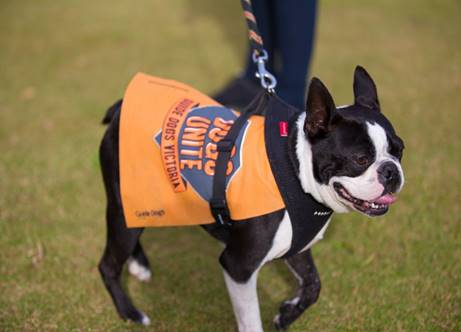 Sunday 17th April, 2016
The community fundraising walk, Dogs Unite, celebrates life-changing guide dog partnerships across the world.
A unique Guide Dogs Victoria initiative, Dogs Unite will be held at various locations across Victoria and locals are invited to bring their four legged friends along! Dogs are the heroes of the day and will sport orange capes on their walk to help generate funds to breed, raise and train one puppy to become a fully-fledged Guide Dog.
Guide Dogs play a critical role in providing members of our community who are vision impaired with the things we often take for granted.
Victorian residents are invited to register their dog for just $10. The money will help Guide Dogs Victoria to reach their goal of raising $35,000 and enable them to breed one Guide Dog. You can sign up your furry friends here: https://dogsunite.raisely.com/
Not in Victoria? Head to the official Dogs Unite website (below) and lend a hand in the form of a very helpful and much needed donation.
For more information, visit dogsunite.raisely.com.
Check out the latest animal attractions and events at our all-new
DOGSLife Directory