December 19th, 2014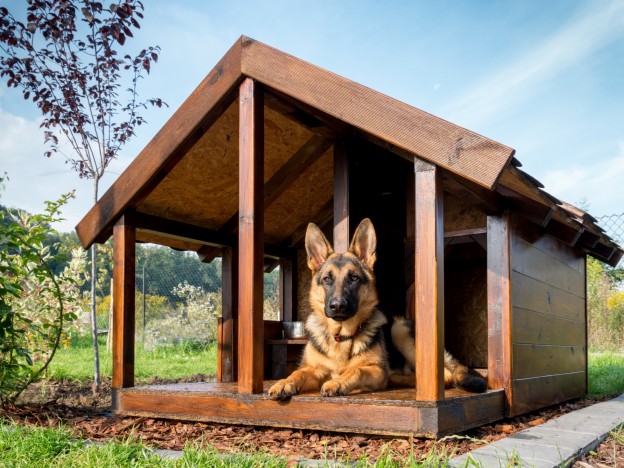 This year, give your beloved pooch the home it deserves by building your very own, custom-made kennel. Kennards Hire's DIY expert Grant Tremlett has devised some DIY dog kennel building tips to build your own dog house to suit your pooches requirements like no other.
Things to Consider
Size Matters: The size of your dog's house is very important. Before you go out and buy materials, make sure you measure your dog and make some basic plans. Keep in mind that the dog house should be large enough for the dog to stand up and turn around comfortably, but small enough to retain the dog's body heat.
High & Dry: Wooden dog houses should be raised a several centimetres off of the ground to prevent water logging, rotting and increase ventilation. Flat concrete blocks are an easy way to raise a doghouse.
Move It: Consider building a transportable kennel to make yard work a breeze and relocating your dog house a hassle-free task. This will prevent killing grass and enable you to keep your pooch in the shade during the hotter months.
Construction Tips
Nail It: If you're building your pooch palace out of timber, you're going to be spending a lot of time swinging a hammer. If hand-eye-coordination isn't one of your strongest skillsets, consider hiring a nail gun from your nearest Kennards Hire branch. Not only will it save your fingers, but a load of time too.
Keep It Cosy: If you live in a place prone to extreme hot and cold temperatures, consider insulating the base and roof of your DIY dog house. Adding a sturdy flap to the door of the house is also a great way to keep the warmth in during the winter months.
Safe n' Sound: After you've finished your construction, be sure to check the dog house over, inside and out for protruding nails, screws, splinters and sharp edges that your pet could easily cut themselves on.
Tidy Up: Add hinges to the roof section so you can easily open up the house to make cleaning your pooch's new home quick and hassle free.
For more information and handy tips for summer DIY projects head to www.kennards.com.au
Check out the latest animal attractions and events at our all-new
DOGSLife Directory