April 30th, 2014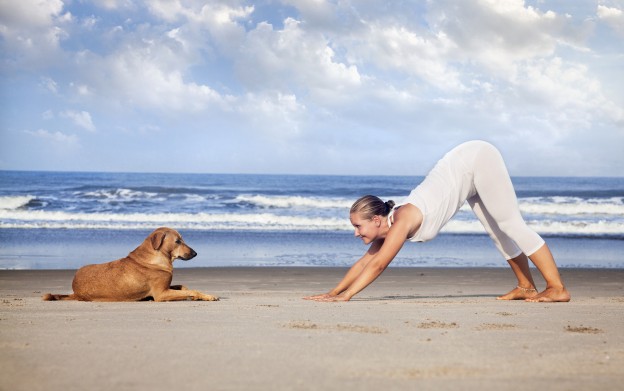 Love stretching out your muscles, keeping healthy and exercising? Why not try stretching with your dog! Dogs Life guest blogger Tim Norris from Both Ends of the Lead is holding an online '4 Paws 2 Feet Challenge' to get owners and their canine companions stretching together.
Held over 21 days, the event is a great opportunity to do something positive for both your health and your pooch's. The challenge is dedicated to the memory of Tim's beloved dog, Oli, who recently passed away from cancer. "We would love to inspire other owners to help their four legged best friends live a longer, healthier life with the same zest for life that Oli had," says Tim.
What are the benefits?
Not only is this challenge a good opportunity to spend extra time bonding with your dog and a fun and effective way to get you and your dog healthier, it will also  encourage you to become more active and keep your dog active and experience the amazing benefits of stretching.
These include:
Increased flexibility making you less susceptible to injuries, and allowing you and your dog to exercise more easily
Increased circulation
Increased range of motion resulting in better balance and movement quality
Reduce stress and tension
Make you and your dog feel good by getting an endorphin boost
Reduce aches, pains (such as lower back pain) and reduce the risk of injury
During the challenge, you will be sent a short stretching video for you and your dog twice a week. So that's four individual stretching exercises each week – two for you, and two for your dog!
The free challenge officially launches on 1st May 2014! If you would like more information, visit the 4 Paws 2 Feet Challenge page and to take part with your dog, visit the free sign up page!
Please note: Before stretching your dog, Both Ends of the Lead strongly suggests consulting with your veterinarian to see if stretching is appropriate for your dog. Please be aware that stretching your dog if they are injured or have certain degenerative conditions is not advised.
Check out the latest animal attractions and events at our all-new
DOGSLife Directory