September 7th, 2018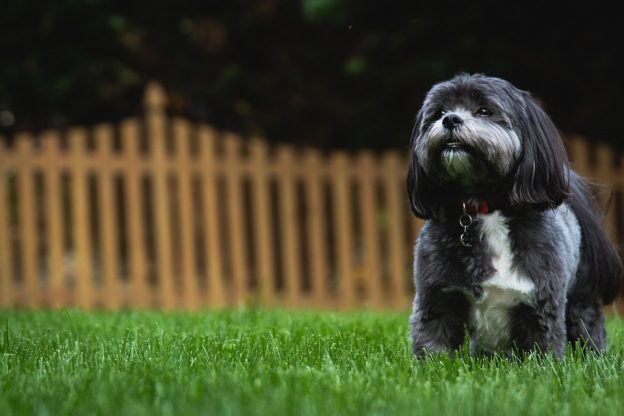 Bring the outdoors in and integrate your dog's furniture into your overall home design with top tips from those in the know. By Katie Cincotta.
The backyard has been ingrained as a sacred outdoor space in Australian culture. Housing affordability and shrinking households may have made it smaller, but that doesn't mean you can't make your outdoor area beautiful and functional for the whole family including your fur kid.
Animal behaviourist Dr Joanne Righetti says, most importantly, you need to ensure safety, which includes secure fences and balconies. Fences need to be sturdy and high enough for your dog not to jump over, and solid to the ground so that digging underneath won't lead to an escape act.
Dr Jo suggests creating a digging area, possibly using a different substrate from your soil such as sand, where your dog can happily dig without interfering with the rest of your garden. This is especially recommended for owners with puppies and dog breeds that love to dig, including Beagles and Terriers.
When it comes to plants, it's important to know which ones can be toxic for dogs. While most dogs will likely only chew on grass, not plants or shrubs, it's still smart to be aware of which plants can be dangerous. "Fortunately, most dogs don't bother with them but puppies often taste everything," Dr Jo says.
Plants that are toxic to dogs include lilies, cyclamen, tulips, oleander, marijuana and aloe vera.
Dr Jo recommends owners familiarise themselves with what these plants look like so they can be recognised easily and thus removed if need be. The Animal Emergency Centre offers a good visual guide on its website: aecvets.com.au/docs/Common-Plants-Toxic-to-Dogs-and-Cats-NATIONAL.pdf
Remember to provide your dog with a sheltered area that includes a bed, Dr Jo says. More than one resting spot is best, so your dog has a place in the shade as well as in the sun to relax.
Designer digs
Celebrity landscaper Jamie Durie isn't just qualified to talk about doggie-safe gardens because he's a worldwide name in landscape and furniture design. He's the proud owner of a beautiful Rhodesian Ridgeback, named Bodhi.
Jamie's latest book Living Design shows readers how to bring the outside in to create a transterior home focusing on shared spaces with our pets.
He says the transterior design trend is the meeting between architecture and nature such as when a verandah or sliding doors open onto a courtyard or garden.
"Once in a while, I get a client who asks me to create a design solution at home for their beloved fluffy, four-legged friend. There are many creative ways to maximise your home to accommodate your pet's individual needs," Jamie says.
The garden design guru says you don't need a huge amount of space to make your backyard dog friendly, either. "You may have a super-energetic dog and limited backyard space. Rest assured, there are solutions."
For one of his projects, Jamie created an outdoor room that also serves as a stimulating play area for the family dog. "You can have a beautiful outdoor room to entertain family and friends that can also double as an agility course for your pet when you're not entertaining human guests," the designer explains.
Jamie says good garden design for dogs should involve more thought than just putting a kennel in the backyard. "Good design for pets in the home goes beyond just providing them with a smart doggie domicile or cat condo. Anything else you can integrate into the design of your home that your pet can interact with to keep them stimulated and active is a bonus."
He says it's important that all animal-related features look attractive and work within the overall design of your home and are of particular benefit if they can be used as a means for exercise for your pet.
"An active pet is a healthy pet. They need exercise and activities to keep them mentally and physically healthy, so they can live a longer, happier life with you," Jamie says.
If you don't have the budget to invest in an outdoor room, he says you can still blend your pet's furniture into the outdoor design. "Try integrating your dog's bed into built-in furniture so it is not an obstruction that stands out but, rather, blends in with the interior architecture."
No-go zones
German Shepherd owner Jacqui Hill shares her near-acre property on the Mornington Peninsula with her husband, two young children and three German Shepherds.
She admits the size and weight of a large dog takes its toll on her lawn, although she wouldn't trade her dogs for a posh Parisian courtyard.
"They love to run around so there's not as much grass as there used to be. They are strong so when they run and then stop suddenly and turn around, they dig into the ground. They have a section where they play, which is where they do their German Shepherd-style burnouts," Jacqui says.
She suggests owners with dogs who like to play in the garden, which can wreak havoc on the lawn, to allow one section for their dogs to frolic in.
Dr Jo says having no-go zones that you fence off from your dog can also help keep your backyard free of destruction.
The pet shrink says that when your dog finds his special outdoor toilet spot, it's important not to feed or play with your dog in this area to encourage him to continue to use the spot for toileting. That way, your dog won't soil the whole backyard and it'll save you time and energy with the poop scoop.
What's new?
Celebrity garden designer and dog owner Jamie Durie has been inspired on his travels by emerging design technology for pets such as the automatic dog door PetWALK. "It works by detecting an animal wearing a small microchip and unlocks when a pet approaches it."
The door claims to be windproof and thermally insulated to keep drafts out and can also be programmed to open and shut at different times.
Meanwhile, on our own shores, on Network Ten's Shark Tank, Naomi Simson recently invested in Sydney start-up company Vegepod, which is a raised vegetable garden.
Jamie believes the Aussie invention by the Harris brothers is a smart option for families wanting to grow their own chemical-free vegies in their backyards or on their balconies.
"Vegepods are raised garden bed kits that come with a stand and are perfect for households with pets. Your precious crop is out of reach from pets and with the attached polyethylene knitted mesh cover, it's also protected from UV light, possums and other animals," Jamie explains.
Make sure your furry friend is always looked after at our
DOGSLife Directory