October 27th, 2014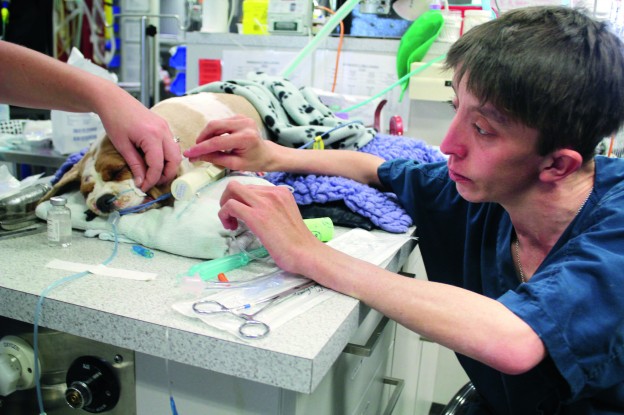 Complications during surgery didn't stop Brendan Hobson from pursuing his dreams of becoming a fully-qualified vet nurse. DOGS Life talks to Brendan and uncovers the unwavering passion of a vet nurse.
How long have you been working with dogs and how did you get started?
I grew up with dogs all my life. It really started when I worked at a pet grooming salon near home at the end of 2007. In the middle of 2008, I enrolled at Richmond College TAFE. Unfortunately, in late 2009 I had to stop my studies for back correction surgery due to a genetic spinal defect (Brendan was born with a spinal curvature disorder). Complications occurred and now I am paralysed, but that didn't stop me from finishing my studies. I went back to TAFE in the middle of 2012, and hopefully I graduate soon to be a qualified Cert IV vet nurse.
What does your work involve?
My job involves looking after ICU patients, setting up for anaesthesia and monitoring while they are under anaesthetic, providing food and water for the patients, administering medications via needles and tablets, washing, and general cleaning and handling of the patients.
What inspires you to do your job?
What inspires me to do what I do is that you are there to help someone's pet, family member or best friend and it shows on the owner's face when they see that someone also cares for their animal.
What is the worst part of your job?
The worst part of my job is looking after a patient when you can do nothing but wait for the medication to work, or when you try and do all you can but you know there is no hope that they are going to pull through. It's hard to tell the owners there is nothing more you can do, especially if it's a puppy or kitten.
What is the best thing about your job?
The best thing about my job is when you have a patient in hospital for a long period of time and they go home fully recovered.
Working at the Animal Referral Hospital
Brendan Hobson works at the Animal Referral Hospital in Sydney. The ARH was able to accommodate Brendan's accessibility needs as he gets around in a wheelchair. The hospital has been delighted to have him around and the staff hope they have been able to help him achieve his goals.