July 17th, 2019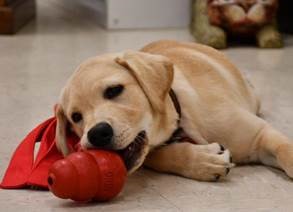 Guide Dogs Australia has received a donation of more than 3,500 new toys so puppies in training can enjoy some well-earned puppy play in their downtime.
The donation drive run by PETstock's charity arm, PETstock Assist, saw a KONG donated for every KONG purchased in- store during the month of April. PETstock Charity Coordinator, Jessica Guilfoyle, says initiatives like this allow pet parents to support worthy causes close to their hearts.
"It takes two years and more than $50,000 to breed, raise, train and match a suitable Guide Dog with a person living with low vision. Guide Dogs Australia is a charity we've supported for a long time, they do incredible work and need all the support they can get, which is why we're thrilled to make such a significant donation thanks to our long-time partner, KONG," she says.
The donation equating to more than $123,000 is all thanks to pet parents Australia-wide supporting participating PETstock stores and will see thousands of Guide Dog puppies in training get a shiny new toy.

Guide Dogs Australia National Corporate Partnerships Manager, Caroline Lee, says it's not all work and training for Guide Dog puppies.
"Just like all puppies, play is a crucial part of our dogs' development," she says.
"Studies show that dogs who don't engage in a lot of play suffer from behavioural issues such as anxiety and aggression, which is why it's so important our puppies have lots of toys and playtime in addition to learning their important job.
"Generous donations like this are what make our work possible and we're incredibly thankful to PETstock, KONG and their customers."
For more information on the training process, raising funds, sponsoring a pup through Puppy Pals or Puppy Sponsorship, or volunteering visit www.guidedogsvictoria.com.au
Make sure your furry friend is always looked after at our
DOGSLife Directory