August 24th, 2018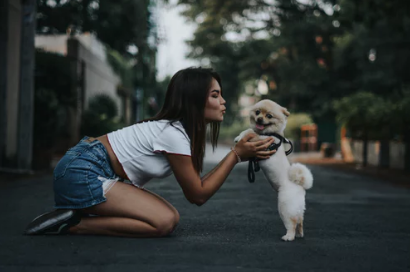 Fostering a dog is only meant to be a temporary arrangement, but sometimes a dog's short-term stopover can end up being its forever home. Tim Falk reports.
Sasha once was shy and scared, but now she's the picture of health.
Stephanie and Sasha
Stephanie Moses works at the Animal Welfare League Queensland (AWLQ) Warra Rehoming Centre on Brisbane's north side, so it's not unusual for her to have an extra kitten or a sick cat in the house from time to time. But the first dog she fostered, a sweet-natured Kelpie cross named Sasha, would eventually become her full-time pet.
"We don't know too much about Sasha's background," Stephanie explains. "She arrived at AWLQ as a stray without any identification and nobody came searching for her. She was quite anxious and would flatten herself on the ground to avoid having to meet people and other dogs. The staff worked with her and built up her confidence and after a few weeks she was adopted."
But when Sasha was too nervous in her new home, she was returned to AWLQ after a week. "We managed to get her into the office where she hid under the desk getting some treats. She looked at me with those scared eyes and I decided I'd take her home for the week to see the extent of her anxiousness," Stephanie says.
"The first day we had Sasha at home she stayed in the backyard, not wanting to come inside. She would walk to the doorway and stretch over the threshold as far as she could to have a look, without actually putting her feet inside the house. She did this for the first couple of days and would sleep outside as she seemed more comfortable.
"A couple of days later we had the back door open and found her in the kitchen. She froze in fear when she saw us but we were so happy she had made it inside on her own. She slowly made her way into the lounge and sat at our feet. It was a very happy and rewarding moment seeing her actually relax.
"A week later and she was completely comfortable, making herself at home on our sofa, although she was scared of loud noises and would run if she saw the cat coming. I had planned on taking her back to work after another couple of weeks but we had fallen in love with her and she really seemed to trust us."
Fast forward six months and Sasha, fast approaching her second birthday, has settled in perfectly. "She is best friends with our kitten and lets the kitten chase her tail around and they'll play together and even eat from the same bowl," Stephanie says. "Her favourite time of day is when we come home from work and she jumps in the air to peek over the fence; she'll then do laps of the house."
Watching Sasha's transformation has been an emotional and inspiring experience and one well worth the effort for Stephanie. If you're thinking of becoming a foster carer, Stephanie says that shelters will be supportive and answer any questions or concerns you may have, and most will supply everything you need: food, bowls, litter etc.
"Most importantly, you're making a difference to at least two lives: the animal you foster and the new animal that can take their space at the shelter," she says. "It's a rewarding experience and will probably change your life for the better."
The plan was for Marlee to just stay a couple of weeks but, as you can see, she made herself right at home.
Mel and Marlee
As many as 17,000 healthy Greyhounds are euthanised every year in Australia when they are deemed no longer able to race, but right across the country, people like Mel Sanderson are stepping in to give these lovable, gentle dogs a second chance.
"After adopting our first rescue Greyhound nearly two years ago, we wanted to do something to help so, as a family, we decided to foster and Marlee was our first," Mel explains. "We already have a full house of animals and just can't keep any more. We had all steeled ourselves, especially me, as we knew she could not stay with us."
The plan was for Marlee to stay for just a couple of weeks to start learning how to be a pet, but after three days Mel knew that wasn't going to happen. "That night, at the dinner table, I told my husband and two daughters that I was in love with Marlee and couldn't bear to give her back, that she loved me and all our other pets, and she was happy and she had a sparkle in her eyes that wasn't there before and that I just had to keep her. They all rolled their eyes and said something like 'as if you were ever going to just foster'," Mel says.
"The back story for Marlee is the same as most Greyhounds — over bred and raised purely to win money. Marlee had no idea about the real world; she was a blank canvas and I can't put into words the pain and the pleasure of watching her world open up.
"She is so playful. She goes 'shopping' at home and finds all sorts of things that she proudly bounces off with to put on her bed. She has taken a particular shine to a small, headless, turtle garden ornament and a 3cm bolt and nut. She loves to collect shoes and anything she can reach on the kitchen bench. It was kind of cute but also strange when I found the missing sweet potato and zucchini in her bed; not chewed, just collected."
Looking back now, Mel thinks Marlee more or less became a part of the family on the drive home from AWLQ. "She is gentle, loving, loyal, sweet and kind and she now has a home and will be loved and cared for forever," Mel says.
Winter was surrendered as a stressed and pregnant dog, but later blossomed under Susie and her family's care.
Susie and Winter
Susie Weitenberg has fostered an amazing 32 animals over the years and eight-year-old Siberian Husky Winter was sixth on that list.
"Winter and her brother lived in a backyard with a family and unfortunately Winter and her brother weren't desexed and, well, it led to a litter of six puppies. So Winter was surrendered pregnant and her brother was also surrendered to AWLQ," Susie explains.
"When she first came to us she was overwhelmed as she had six puppies and she was under the age of 12 months herself. It took some time for her to adapt and settle but once she did it was an amazing transformation.
"We had her with the pups and then the pups were sold. We had planned to go away for a couple of weeks, months in advance, and when we returned we were asked to take her again. That was when my husband John had a chance to have her without the puppies, not stressed, and he saw her full, beautiful character and he was smitten.
"She was just such a good mother with these six puppies once she settled and got her maternal act together, as she had a lot to deal with as a young dog in such a short space of time. And she was so beautiful with us as well. We couldn't imagine giving her back as she was just such a part of our life and the furniture."
These days, whether it's a game of fetch or a walk on the beach, Winter loves doing everything with Susie and John. "Her personality is loving, attentive, playful and very loyal. She is my shadow," Susie says.
Becoming a foster carer
Thinking of becoming a foster carer to help animals in need? AWLQ is one of many animal rescue organisations around the country looking for committed foster carers. While it can take a lot of hard work and patience to give these animals a second chance, Susie says the rewards make it all worth it.
"While it's sad to take them back, it's also so comforting to know that they are ready for adoption and they have the best possible chance in life thanks to our efforts and the efforts of so many other foster carers. It doesn't get much better than that."
For more information head to awlqld.com.au/awlq-animals/pet-fostering
Make sure your furry friend is always looked after at our
DOGSLife Directory