January 7th, 2022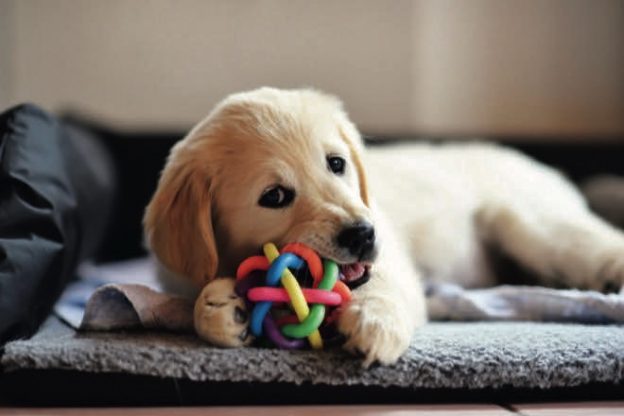 Your puppy's first vet visit can be all important to setting your dog up for positive associations down the track. We tell you what to expect.
Today will be the start of a happy lifelong relationship between your trusted vet and your furry best buddy. Therefore, it's important to prepare your puppy to ensure it's a relaxed, fun and positive experience.
After all, there will be sights, sounds and smells your puppy hasn't experienced yet in his young life. There might be big barking dogs or nervous pint-sized ones, cats peeping out of cat cages, and critters such as rabbits or guinea pigs your pup has never laid eyes on before.
Finding a vet
When choosing a vet, convenience is often a factor — a vet that's close by is handy in an emergency. Dr David Mason from AdelaideVet says it's also important to pick a vet you feel comfortable with.
"Talk to friends for their recommendations," he advises. "Then, make an initial call and ask about the different facilities and levels of care on offer."
Take a chill pill
You might be feeling a bit anxious, too. After all, it's your puppy's first vet visit. It's important that you try to be relaxed and calm as your pet will pick up on any anxiety. Know that your puppy is in very good hands with your vet who is a trained healthcare professional. They'll do their best to make sure you and pup are feeing relaxed.
The big day
To help make it a positive experience, Dr David suggests taking along your puppy's favourite toy and a couple of little treats. "Don't give your puppy a big breakfast in the morning, so they'll enjoy a few treats, which makes the whole experience a lot more pleasurable for the puppy," he says.
Try to get there a little bit earlier for the appointment, as you'll need to fill out details about your puppy. Then your dog will be weighed, which helps the vet calculate things such as worming tablets and flea control. Recording a puppy's weight, and checking it on subsequent visits, also helps the vet ensure that puppy is healthy, too.
Dr David says some veterinarians also encourage you to drop in for visits beforehand so on the day of your puppy's examination, the pup is already used to the new surroundings. "We encourage nervous puppies (and their owners) to come in for a visit. The nurses give puppy a little treat, pop them on the scales, then you both go home again," Dr David says.
Puppy preschool can also help prepare your pup. There are many different preschools around and some vet practices also offer classes. "It teaches dog owners how to behave with a puppy and helps with puppy socialisation," Dr David explains. "Puppy also gets used to their ears being checked, their feet played with, their mouth being looked in — those sorts of things — and meeting other puppies is a fun experience for them and you."
Examining your puppy
Dr David says the vet will usually do a nose-to-tail examination. "With many health issues, there's a lot we can do if they are detected early," he says. It begins with examining the nose, mouth, teeth, gums and eyes for abnormalities and infection, and ears are checked for ear mites. Then the vet will check the glands in the neck, listen to the heart and lungs with a stethoscope, feel the puppy's tummy, check the joints and, if the puppy is microchipped already, make sure it's working.
If your pup is from a registered breeder, they would probably have arranged for puppy's first vaccination so, in that case, it's more than likely, this will be your puppy's second one. "Your puppy will probably be given C5, which protects against the five major diseases in puppies: distemper, parvovirus, hepatis, parainfluenza and Bordetella," Dr David says. Puppies may be a little sore for an hour or so at the site of the vaccination but, by nightfall, they'll be their happy, playful selves again.
"A puppy's vaccination schedule is dependent on the puppy and its circumstances, as well as your location," Dr David explains. "But, generally, puppies are first vaccinated from around six weeks, then given another at 10–12 weeks and possibly another at 16 weeks." At 15 months, your puppy needs an adult C5 injection.
Your vet will ask about the puppy's history, current diet, fluid intake and any health issues you are aware of. Dr David says your vet's job is to address any health concerns and provide information. They will offer advice about diet and microchipping (if your puppy isn't microchipped, your vet can take care of that, too). You'll also be given information about tick, flea and worm treatments. Finally, your puppy's vet can also offer breed-specific advice, too, and information on desexing your puppy when the time is right. Your vet is there to help, so don't be afraid to ask any questions and share any concerns you might have.
Make sure your furry friend is always looked after at our
DOGSLife Directory