August 31st, 2018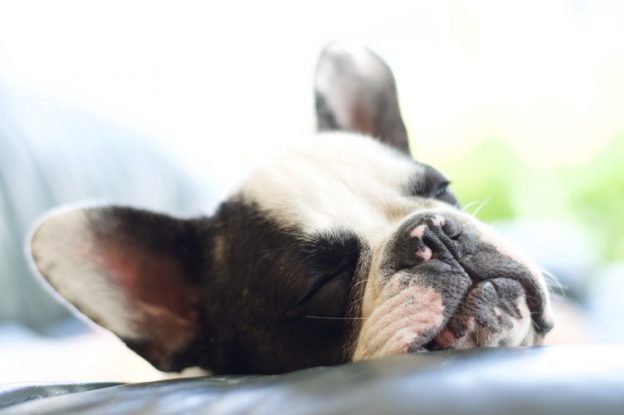 A therapeutic and relaxing massage is one of life's great pleasures. But did you know that Fido can also benefit from this indulging past-time? By Carrol Baker.
There's nothing quite like the pure bliss of a massage to feel your aches, pains and stress melt away. Dogs also enjoy the therapeutic benefits of massage, which incorporates many of the same techniques that is used on humans.
Doggy massage is all about improving your dog's health and wellbeing. It promotes fluid ease of movement, improves muscle tone for better function, facilitates greater strength and endurance, and helps with physical ailments.
Unfortunately, our dogs can't tell us how they feel and they are adept at hiding pain and discomfort. A massage can help pinpoint problem areas and issues, as your practitioner will assess your dog during a consultation.
Megan Ayrault, author of The Dog Lover's Guide to Massage, says modern-day doggie massage has a host of health benefits. It improves digestion, lowers blood pressure, supports recovery from injury, surgery and trauma, and increases flexibility and resilience. Have we also mentioned yet that your happy hound will love the feel-good factor? And so will you, knowing you have done something special for your pet.
Melissa Sciberras from Pawsitive Animal Therapies says massage can also be relaxing for dogs that suffer from anxiety or exhibit aggressive behaviours. "It helps dogs, particularly rescue pets, to overcome any trust issues they have with humans – massage helps them appreciate and enjoy the human touch."
Doggie massage can also benefit show and agility dogs. "After a massage, they move more freely and they look very elegant and supple; their muscles are relaxed and they have full range of movement," Melissa says.
Massage can benefit all dogs and all breeds, from playful pups right through to senior pets that may have health problems such as arthritis.
After an initial massage, a monthly maintenance treatment can help keep your dog happy, healthy and maximise her quality of life.
Types of therapy
Your therapist might use one or more of the following modalities in a consultation, based on their assessment of your dog:
Reiki therapy is an energy healing system that treats the whole being (physical, mental, emotional and spiritual). It works by evoking the chakras, the seven focal centres along the spine. The energy travels through the hands of the practitioner to the dog, bringing healing energy. It can assist with injury, mobility and other health conditions.
Bowen therapy is a cross-fibre muscle-release technique. The practitioner uses gentle pressure for a few seconds over specific points of the body to promote healing and pain relief. It can assist with injury, mobility and other health conditions.
Craniosacral therapy uses gentle pressure on the cranium (soft tissue of the head), the spine and then down to the tail (the sacral area). This works on the cerebrospinal fluid, ensuring it's balanced and free-flowing. This type of treatment is good for animals that have been injured in car accidents, suffer from hip dysplasia and are recovering post-surgery.
Massage therapy often involves Swedish massage techniques and is the process of manipulating the muscles, ligaments and tendons using various movements to encourage relaxation, treat physical ailments and promote good health and wellbeing.
Myotherapy is similar to massage, but a bit deeper, and involves stretching and gentle manipulation. Both massage and myotherapy can assist in pain recovery, relaxation and pre-and post-show and agility dog conditioning.
Learning the lingo
There are different types of touch involved in canine massage. These include effleurage (long, slow strokes of the superficial muscles), compression (deeper, longer strokes), rotation (using acupressure points, running fingers across the muscles), petrissage (kneading, twisting and squeezing the muscles) and percussion (drumming with your fingers).
Tracking down a therapist
Want your dog to enjoy the benefits of professional therapeutic massage? Ask your vet for a referral or check out the Small Animal & Equine Naturopathy Association (SAENA) saena.com.au or the Holistic Animal Therapy Organisation (HATO) hato.com.au
DIY doggy massage
If you'd like to treat your dog to a little relaxation therapy and spend some special time together, try the following hand-on massage sequence. Remember to use a light touch and be very gentle with your pet and keep in mind that natural pet therapists are trained professionals who are familiar with pressure points and animal physiology, so leave the deep massage and manipulations to the experts.
Set the scene by choosing a quiet space and pop a few drops of essential oil on your dog's bedding to relax him.
Position the dog on his side (if he is comfortable in that position).
Speaking to your dog in a low soothing voice, work from top to tail – applying gentle, light strokes.
Begin with the head and neck area and work your way up to the front legs, abdominal, spinal area and finally the hind legs. Your dog will be feeling relaxed and calm and may drop off to sleep.
The power of massage: a case study
Nikita, a 14-year-old black Poodle, had surgery due to a slipped disc in her neck. The vet surgeon said it was a risky operation with no guarantee that she'd walk again. Two weeks post-surgery and Nikita still couldn't walk and so her distraught owner approached Melissa who prescribed massage and myotherapy treatments. At first, there was no response in Nikita's paw pads, but eventually Nikita showed a positive nerve response by reacting to pressure applied to her paw pads. After a few weeks, much to her owner's delight, Nikita took her first fledgling steps, and has now made a complete recovery.
Make sure your furry friend is always looked after at our
DOGSLife Directory