August 31st, 2018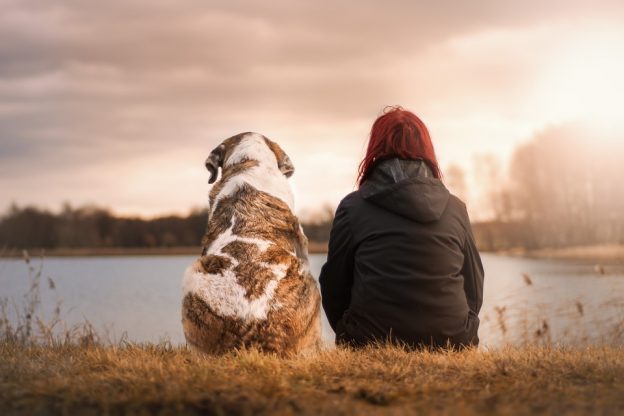 This issue, we speak to animal behaviour expert Laura Vissaritis about her relationship with her gorgeous pooch, Chester.
I remember the first time I saw my pet. It was seven years ago. I had just moved into a place with a larger yard and had an overwhelming urge to welcome a dog into my life. I had rescued two rabbits that I house trained, had several fish, turtles and stick insects; and so it made complete sense to adopt a dog as well … right?
I remember asking my boss at the time if I could reduce my working hours so I'd have time for this new bundle of fur in my life. I was prepared to make big sacrifices and reduce my income. I was ready. Then, I met Chester.
I visited a registered breeder of Staffordshire Bull Terriers, who were recommended by the breed's official club. Chester was this chubby little ball of uncoordinated white fur, with two black patches on his face. I sat down with him and he clumsily crawled all over my lap and it was at that moment, my heart melted and, to be honest, it was at that moment that my life completely changed. Meeting Chester changed my life because he became the best teacher I could have ever asked for. He taught me more about responsibility, sacrifice, trust, respect and empathy than I had learnt from any human. Like all dogs can, he made me a better person.
What I love most about my pet is … his kindness. He has such purity about him. He is thoughtful and sensitive and trusts me completely. It is such a privilege to care for him.
We are together a lot. I am so lucky in my work, where I get to travel with him, take him to clients' homes and even take him into my studio where I talk on radio. Sometimes he has a bit to say on radio, but the listeners love it. When I talk on air and give people advice, I often look down at him, to find him lying flat on his back under the desk snoring.
The place my pet loves the most is … the beach. There is no comparison to the beach. He loves to run and sniff and dart through the sand. You can tell how happy he is by his body language and that elates me, too. We go paddle boarding sometimes and even though he hates to swim, there is nothing that would keep him from getting on that board with me. It's so satisfying watching someone you love happy and content. It makes me mindful and grateful for the simple and most important things in life.
The dog essential I could not do without is … his sleeping bag. I take this with me wherever we go. Dogs need a safe place, which is something I tell clients to create for dogs who have anxiety or fear, in particular. Chester knows that wherever he is — whether at an airport, on a train, TV or in the radio studio — his doggie bag is the place where he can lie down and relax. Dogs are creatures of habit and creating a safe zone wherever they are is so important for their sense of safety and wellbeing.
Laura appears regularly on morning TV and lifestyle programs. She also has a fortnightly radio show on 3AW's Afternoons program as the pet expert. Her book, a best seller called Things Your Dog Wants You To Know, is available in all book stores or through laurav.com.au. You can find her on Facebook by searching Dognitive Therapy.
Here are just a few things that can make life with your dog a bit easier - see them now on our
DOGSLife Directory