October 5th, 2018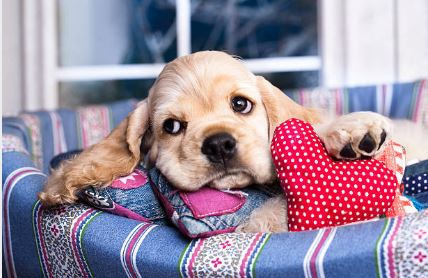 Here are the latest doggy products the DOGSLife team has gone barking mad for.
Emmi-pet
It's a fact: by the age of about two years, 80 per cent of dogs show their first symptoms of dental disorders. Keep your pet's chompers in the very best shape you can using Emmi-pet. This fabulous product offers motion- and soundless dental cleaning to help make the dental hygiene experience as calm as possible for your dog. The Emmi-pet Ultrasound, generated in the patented Piezo-Chip, is able to penetrate 12mm deep into the gums to help remove any bacteria, helping prevent gum inflammations, periodontitis, tartar, bad breath odour and tooth loss. Brushing your dog's
teeth is a thing of the past as the Original Emmi-pet Ultrasound does the work much more effectively than any other kind of conventional toothbrush ever did.
For more information, visit emmi-club.de.
Dachshund Number Puzzle
This brightly coloured toy is absolutely charming. We were captured by the bright colours depicting one of our very favourite breeds of dog, the Dachshund, and even more pleased to discover the product comes from one of our favourite retailers — Oxfam!
For more information, visit shop.oxfam.org.au.
Tile Pet Memorial
Celebrate the life of one of the best friends you've ever had with a tile from JennoliART. Glazed and kiln-fired tiles can make great memorials for pet owners and provide a fitting tribute for someone who was always there for you. All tiles are custom finished to order.
For more information, visit jennoliart.com.au.
DOOG neoprene leash in Marley
We love the new neoprene leash range from DOOG, particularly this gorgeous print, the Marley. The bright colours just pop off the lightweight neoprene, which is super soft and contains just the right amount of stretch to avoid jarring for those enthusiastic dog-pulling moments.
The DOOG neoprene leash is made from a quick-dry antibacterial fabric and is perfect for those dogs and dog owners who love getting out and about!
For more information, visit doog.com.au.
Wall Art Prints
Add a splash of colour to your wall with one of these bright and cheerful pieces from Wall Art Prints. Printed using advanced laser-printing technology on a premium cotton/poly-blend 360GSM canvas, these prints are all coated for protection against UV light and dust damage. And, with a guarantee against fading and warping for 20 years, you know the print will be with you for a long while to come.
For more information, visit wallartprints.com.au.
Fido Studio
Tap into your dog's natural instinct to have a "den" he can call his own with the new Fido Studio from Omlet. This is more than just an indoor dog crate, designed with style and storage in mind. We particularly love the versatile wardrobe for storing treats, favourite toys, our leash and, of course, the odd coat or two so they're on hand and ready to go whenever we are!
For more information, visit omlet.com.au.
Fred & Friends Winer Dogs Wine Markers
Keep a tight leash on your precious wine with a set of six Winer Dogs Wine Markers by Fred & Friends. Made from high-quality rubber silicone, these tags are shaped like sleeping sausage dogs and come in orange, blue, grey, black, white or brown, ensuring you'll never go barking mad trying to remember which glass is yours again! Simply wrap one around the stem of your glass and you're set to go. As the good people at Fred & Friends say, now that's something to wag your tail about!
For more information, visit yellowoctopus.com.au.
Pet Pastel Portraits
What better way to celebrate your beloved furry friend than with a portrait beautifully created by Simon and Rowena at Pet Pastel Portraits? This husband-and-wife team based in Perth is skilled at capturing images of your furry friend, leaving you with a beautiful keepsake that will last a lifetime.
The Pet Pastel Portraits team work with you to select the best photo and will discuss your sizing requirements with you, too. Finally, you will see a copy of the work for approval before it's sent out, ensuring you are 100 per cent thrilled with the final product.
Sound like the paw-fect gift for someone in your life? Check it out now. Prices start at $100AUD and shipping is free. For more information, visit petpastelportraits.com.
Make sure your furry friend is always looked after at our
DOGSLife Directory