August 31st, 2018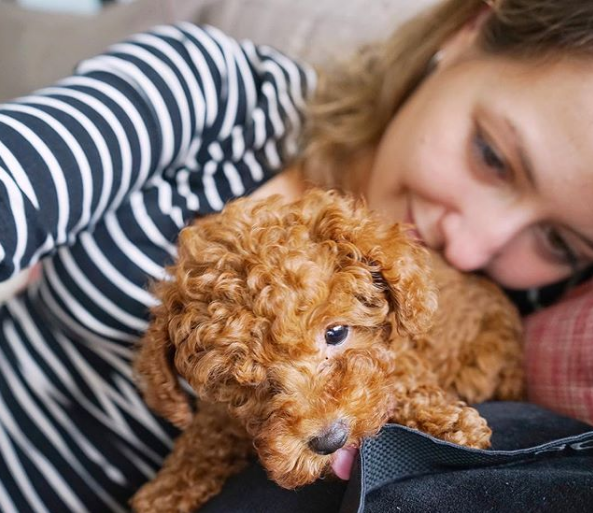 Food journalist Sofia Levin talks about Jinkee, her 18-month-old Instagram-famous Toy Poodle
I remember the first time I saw my pet. Jinkee and her brother were in their bed, two tiny sausages just four weeks old. I had asked the breeder if I could visit before choosing my puppy as I didn't like the idea of shopping for one online.
I knew I was in the right place as soon as we arrived. Jinkee was born first and you could tell — she was already so cheeky, trying to explore without quite figuring out how to walk properly yet. The little noises she was making broke my heart!
What I love most about my pet is … her ability to turn every day into a good one and make you instantly forget about any problems. She does it on a daily basis not only at home, but also for tens of thousands of people all around the world through her Instagram account, @LifeOfJinkee.
We spend time together often. "Often" is an understatement — how about "always". I work from home so most of my day involves Jinkee being asleep on my lap. When she's not resting her eyes, she's either throwing toys at my feet trying to drag me away from the computer or accompanying me to a cafe.
The place my pet loves the most is … a tie between the beach and our bed. At the beach, she heads straight for the smelliest patch of seaweed. In winter, when my fiancé and I get up in the morning to go to the gym, she stays in bed, tucked in with her head on the pillow like a human.
The dog essential I could not do without is … practically speaking, Jinkee's slicker brush — Toy Poodles don't moult but you need to brush them daily to prevent matting. Aesthetically speaking, she has the most amazing denim vest by PetHaus, decorated with her own line of PinstaPals doggy fashion pins.
For more information on Jinkee, check her out at instagram.com/lifeofjinkee, facebook.com/lifeofjinkee or pinstapals.com
Make sure your furry friend is always looked after at our
DOGSLife Directory