January 14th, 2022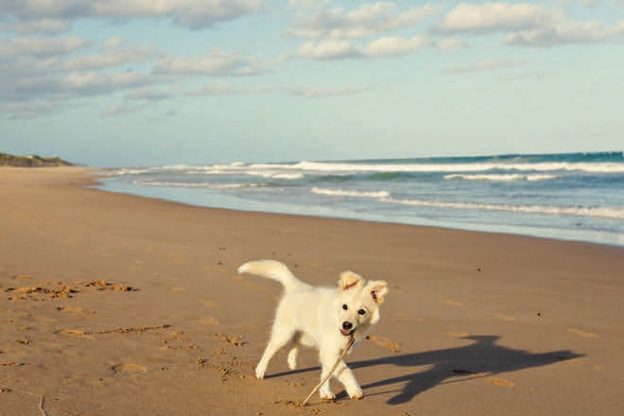 Preparing for your puppy's first summer vacation can require some careful planning. Kerry Martin from Puppy Tales tells us about her dog's first trip to the Great Ocean Road.
Photos: Kerry Martin, Puppy Tales
Summer was just four months young when she headed off on her first summer vacation with us and her fur-brother, Keiko, a seasoned traveller. The dog holiday destination? The Great Ocean Road for fur-bulous dog-friendly accommodation, beaches, and forest and coastal walks.
You might wonder why we took such a young pup on a holiday. Aside from her being part of the family, a wide range of experiences is an important part of a puppy's development. The younger a dog discovers things for the first time, the greater their socialisation benefits. We travel frequently with the dogs, so it's important that Summer is comfortable with this lifestyle. Plus, it's a fun way of bonding, so why not start as soon as we could?
To begin Summer's first holiday, we caught the ferry from Sorrento to Geelong. Onboard, dogs on leashes are permitted out on the top deck for the 40-minute crossing. It's certainly unique to watch the coastlines disappear and then reappear with your best buddy by your side. And then it was off to the stunning coastal highway that is the Great Ocean Road.
Is your pup ready for a getaway adventure?
While travel is a great part of life with dogs, there are things you want to consider before deciding that it's right for your puppy. These include:
Is your dog toilet trained? Fortunately, for us, Summer was a quick learner — she's a smart cookie and learnt by following Keiko's lead.
Is pup a good traveler? A car-sick pooch is no fun for anyone. And if it does happen, it could lead them to developing a negative association when the suitcases are pulled out and the car packed.
How confident is pup? How comfortable are they with new people, places and experiences? Are they ready for the next level of adventure in travelling?
Is chewing a challenge? Ensure your pup is past the stage of destructive behaviours when indoors, such as chewing wood furniture or clawing at carpet or furniture.
Is your puppy crate trained? While not essential, we found crate training our pups to be beneficial. It helps with toilet training and it's handy for travelling when your dog's comfortable in their crate. In an unfamiliar destination, it provides a reassuring place for them to sleep and prevents them getting up to something naughty in the middle of the night.
Our destination for three nights was the wonderfully dog-friendly Cape Otway Cottages. Our pooches were treated to a dog welcome pack and we were provided with information on where to head with dogs, along with practical items such as covers to put over the couch (they know we pet parents struggle with saying no to our dogs!). What's more, it's a great stay for the humans with a tranquil setting, spa, fireplace and big comfy bed.
Highlights of the Great Ocean Road for a Summer Vacation with Dogs
Summer's first holiday was a great adventure for both the two- and four-leggers and the Great Ocean Road was certainly a beautiful destination. The highlights of our trip were:
Beauchamp Falls Walk: An easy but beautiful walk through the rainforest to the waterfall. There are metal grates on the viewing platform, which weren't paw-friendly.
The Halladale Track: A coastal walk in Peterborough that has stunning ocean views and fascinating geological formations. There's also beach access at points (dogs on lead).
Sandy Cove in the Bay of Islands: This is an amazing place to play on the sand with apostle-like structures in the background (there were signs for strong rips here so we didn't let our dogs into the ocean).
Old Beechy Rail Trail: We walked a section from Beech Forest, an easy trail alongside farmlands.
Tips for your dog's first summer vacation (or any holiday):
Before signing off to go plan our next adventure, I thought it would be helpful to leave you with my top tips for taking a young pup on holidays.
1. Don't be overly ambitious with the holiday length or type. Start closer to home for a weekend to ease into the experience of travelling.
2. Consider your accommodation options to help minimise the chance of an "accident". Look for tiled or wood floors over carpet, single-storey options and easy access to outdoors.
3. Check the property details carefully before booking. Ensure that their dog-friendliness matches your expectations and there aren't restrictions based around the age of the dog guests. I couldn't imagine anything worse than arriving all excited for your stay, only to be turned away because they don't want to accommodate a puppy.
4. Packing for your puppy. Along with all the usual dog travel musts, there are a couple of extras I recommend when travelling with a young pup. These are:
A crate, their bed or a favourite blanket that will give them a sense of familiarity and let them know where they should be sleeping.
Toys, especially chew toys or a comforting toy that will help them settle into their new environment.
Clean-up supplies, just in case!
5. Help your dog get acquainted with the accommodation and surrounds. When you arrive at your accommodation, it's a new and strange environment to your dog. Show them where they should toilet and give them more frequent and extra time outdoors to relieve themselves.
6. Ensure your trip is built around enjoying quality time together. Don't take them somewhere just to leave them by themselves in a strange place — this could halt their excitement for travelling again in the future.
7. Consider your puppy's level of obedience and training to plan accordingly.Summer hadn't mastered a long "stay" at the time of this trip, so we preferred to
cook at the accommodation and eat at the beach, rather than somewhere where she would need to sit calmly for a long time.
8. Give your pup time for snoozing. Puppies still need plenty of downtime each day. Ensure your daily plans give them this throughout the day — especially if the activities are more stimulating than when at home.
While travelling with a puppy requires a little extra planning, the effort is certainly worth it! So many of our favourite memories with Summer and Keiko include our holidays. And with Summer, that all began with her Great Ocean Road trip. Great times, funny puppy moments and paw-fect photos!
Here are just a few things that can make life with your dog a bit easier - see them now on our
DOGSLife Directory