October 5th, 2018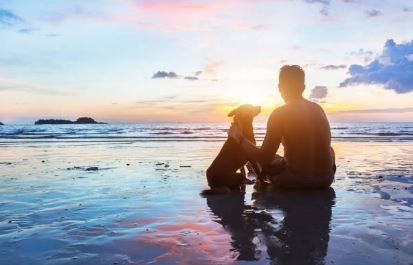 Where can you and your pet enjoy a relaxing summer getaway? Tim Falk looks at some of the best dog-friendly holiday destinations on the east coast.
School's out, work is winding down and summer is finally here. It's time to pack your bags and hit the road for a family getaway — and no family holiday is complete without the family pet.
Of course, the unfortunate reality of travel in Australia is that not every destination is as dog-friendly as it could be. So to help you get the most out of your next summer holiday with your dog, we've tracked down some of the best and most beautiful dog-friendly holiday spots on Australia's east coast.
Noosa, Queensland
Beautiful beaches, a cosmopolitan lifestyle and more dog-friendly attractions and activities than you can wag a tail at — welcome to Noosa. This Sunshine Coast gem combines a laid-back vibe and beautiful natural scenery with a plethora of excellent cafes and restaurants, and the whole town welcomes dogs with open arms.
"Noosa is a really pet-friendly area," says local Trish Simpson, who manages several pet-friendly holiday homes in the region. "Most cafes allow dogs to sit out the front with owners and they supply water. There are also some amazing off-leash areas. I walk Bonnie [her Staffy/Rhodesian Ridgeback/Pug cross] each morning at the northern end of Sunshine Beach — she loves it."
Other great dog swimming and walking spots include the Sunrise Beach off-leash dog beach, a section of Castaways Beach and of course the special dog-friendly beach in Noosa Botanic Gardens.
"Dog Beach in Noosa Botanic Gardens is great for families as the water is calm and the area well protected," says Stephanie Yip, Travel Expert at comparison website finder.com.au.
"Cafes to bring your four-legged friend to along the Sunshine Coast include The Velo Project (Mooloolaba), Attic Cafe (Alexandra Headland), Costa Noosa Espresso (Sunshine Beach) and Beans N Bagels (Noosaville). The Velo Project in particular loves dogs so much they have their own dedicated Dogue Menu for your pooch.
"Activities-wise, Eumundi Markets is a fun day out for pooches who don't mind being around others," Stephanie says.
And if you're looking for a dog-friendly cafe, pub or restaurant in and around Noosa, Trish says there are so many to choose from. "Most places will allow you to sit at outdoor tables with your fur baby.
"I love having lunch at Maisie's over at the Noosa River — they have an amazing seafood platter and I can have my dog at lunch with us. We also go to Jam deli at Sunshine Beach every morning before walking on the beach."
Of course, Noosa also hosts the Surfing Dog Spectacular each year as part of the annual Festival of Surfing. Why not time your visit to coincide with the festival, which is held in March, to see some amazing talented canines hit the water?
Where to stay
All but one of the holiday properties managed by Trish Simpson in and around Noosa are pet-friendly. Check them out at noosaretreats.com.
Hunter Valley, NSW
Dog photographer Kerry Martin from puppytales.com.au frequently travels Australia with her two dogs in tow, so she's well placed to offer advice on dog-friendly travel destinations and attractions. According to Kerry, there are few dog-friendly travel experiences as enjoyable as indulging in a spot of wine tasting in the Hunter Valley.
"Here we were especially impressed with the welcome the dog-friendly wineries gave us," she says. "At the info centre we found a guide that specifically had a listing for cellar doors that were dog friendly — it was a lovely day out with the dogs. We tasted wines and they sniffed the curious smells to be found in a winery.
"We visited De Bortoli, Kevin Sobels, Pepper Tree Wines and Calais Estate Wines — all lovely and welcoming for our fluffy companions. De Bortoli had some local markets on the day we visited so that was an added bonus.
"It's such a nice activity to be able to do together. I think the Hunter Valley is a year-round destination, especially as winery visits are something that you can do when the weather isn't the best."
And there are plenty of other wineries in the area with a canine theme, as Stephanie explains. "Gundog Estate in particular takes its name from the residence pooch, Karl Marx, a failed gundog turned model for the winery who has full reign over the vineyards. Greenway Wines also has a resident dog, Harry, who spends his days chasing wildlife.
"Other pet-friendly wineries include Hanging Tree Wines and Hart and Hunter. For pet-friendly eats, The Deck Estate and Bistro Molines have open verandahs and outdoor areas perfect for pooches."
More information
Visit the Hunter Valley Visitor Centre online for a list of pet-friendly wineries.
Jervis Bay & the South Coast, NSW
Are you looking for a relaxed beachside holiday that allows you to explore some of the most pristine beaches anywhere in Australia? Well, Jervis Bay should feature prominently on your holiday bucket list.
"Jervis Bay has incredible beaches (including Hyams Beach, which has the whitest sand in the world, although this is an on-lead beach)," says Kerry Martin. "The beaches are a mix of on- and off-lead but you can walk so far along these big and generally uncrowded beaches.
"We have visited many times but love early summer and early autumn as it's still beautiful weather but, outside the peak time, so less crowded and easier to find accommodation."
Nearby towns like Bermagui, Merimbula/Pambula, Ulladulla and Kiama are all beautiful beachside locations and boast myriad dog-friendly attractions. "As a region, I'd say it has the best dog friendliness in terms of where they can go (beaches, parks, trails) and regulations of anywhere we've been to so far," says Kerry. "While the beaches are stunning and the main attraction, there's also great walks/hikes to be found inland — it's a beautiful part of Australia."
On a South Coast holiday you and your pooch can enjoy long walks on the beach, swimming, stand-up paddleboarding, hiking and lots of beach play. In terms of dining out, Hyams Beach Cafe, Boardwalk Cafe (Ulladulla) and the great beer garden at the Shoalhaven Heads Hotel. Of course, it's hard to beat fish and chips with your pet on the beach while watching the sunset.
"Jervis Bay and its surrounds are a haven for dogs, with numerous locations allowing for them to go off leash," says Stephanie from finder.com.au. Popular 24/7 off-leash spots include:
River Road Reserve in Shoalhaven Heads
The cricket oval in Bomaderry
Nowra Showground
Clifton Park in Sanctuary Point
Colliers Beach and Ulladulla Harbour
Northern Beach in Mollymook
Cormorant Beach in Bawley Point
Boat Harbour Rocks in Bendalong
Where to stay
From caravan and camping parks to hotels, motels, B&Bs and more, there's no shortage of pet-friendly accommodation options on the NSW South Coast. You can find a whole lot more information on accommodation and dog-friendly attractions in the region in the Shoalhaven Pets on Holiday guide available at shoalhavenholidays.com.au.
Dinner Plain & the High Country, Victoria
Has your dog ever seen snow? Does rugging up for a cosy winter getaway with your pooch sound like your idea of a great time? If so, you should visit Dinner Plain in Victoria's High Country. This beautiful alpine location is right at the top of Kerry Martin's list of dog-friendly holiday spots.
"For us, Dinner Plain is all about the snow!" she says. "It's such fun to see your dog experience the snow and we've had dozens of photography clients join us there for the same reason.
"While it's possible to see the snow in other places in Australia with your dogs, it's either when snow is falling at really low altitudes (and sometimes has melted by that afternoon) or it's in places that are not easily accessible and have no facilities.
"Dinner Plain is different — the village sits on freehold land so with a permit you can take your dog. It has a beautiful snow-village feel that's different to the big resorts. It feels to me more like I'm in a quaint European village."
And there's plenty to do on your snowy getaway. You can hike beautiful cross-country tracks, go dog sledding during the Sled Dog Challenge Weekend (August) or go skijoring with your pooch.
"Snow play (chasing snowballs, exploring, digging, sniffing) is also especially fabulous for the dogs in the snow; they want to figure out this new world that they've stepped into. And after all this activity, it's really lovely to snuggle up in front of a fireplace in your chalet with your dog," Kerry says.
You can also visit the dog-friendly Blizzard Brewery, tuck into a meal at Mountain Kitchen or have a drink on the deck of the Dinner Plain Hotel with your dog, says Kerry. "Even the local hairdresser has dogs that will greet you for your appointment. Her little Dachshund, Chorizo, will even snuggle on your lap for the duration of your appointment if you'd like."
Dinner Plain
Kerry loves taking her dogs to Dinner Plain so much she's even written a comprehensive eBook on the topic. Head to puppytales.com.au to get your copy.
Of course, you don't have to go in winter. You can visit Dinner Plain at any time of year, or check out some of the beautiful nearby towns including Bright and Beechworth. Both are stunning in autumn and are great spots for some dog-friendly walking.
"A couple of favourite trails are the Beechworth Gorge walk and the Lake Sambell to Lake Kerferd Track, both in Beechworth," Kerry says. "The rail trail in Bright is very pleasant and easy walk. The walk along the river from Bright to Wandiligong is great for a long walk — you can stop in at the Wandiligong Maze for a snack or rest before making your return journey."
For dog-friendly wining and dining, try Ginger Baker in Bright, Feathertop Winery in Porepunkah or the outdoor decked area at the Beechworth Honey Experience Shop. And, with many pet-friendly accommodation options on offer, the entire region is just made for touring with your dog.
Hobart, Tasmania
Heading south to the Apple Isle for a winter getaway? There are plenty of reasons why you should take your dog along for the ride.
"Tasmania thrives with dog-friendly locations and activities and some of the best can be found close to Hobart," explains Stephanie.
"If you're looking to take in the sunshine, Short Beach near Battery Park, Sandy Bay, Kingston dog beach and Denison Beach are conveniently located dog beaches that let them run off-lead. The Kingston foreshore has a variety of on- and off-leash areas as well as restricted and limited areas while Denison Beach features many exercise areas for dogs."
You'll also find numerous opportunities throughout the city of Hobart to take your four-legged friend for a walk including Brown County Dog Park, Cartwright Point Reserve, Alexandra Battery, Queens Domain, Knocklofty Reserve, Rangeview Crescent Reserve and numerous parks around Sandy Bay.
Cafes that welcome dogs in and around the area include Whisk & Co, Jam Jar Lounge and Lansdowne Cafe.
Next time you're planning a family winter getaway, don't leave the dog behind. Check out one of these great dog-friendly travel destinations and strap yourself in for a holiday you and your furry friend will never forget.
Spirit of Tasmania
Planning on travelling on Spirit of Tasmania, which cruises from Melbourne to Devonport (Tas) and back? The good news is that dogs, cats and a number of other pets are allowed to make the journey with you. Dogs must travel in one of the Spirit of Tasmania kennels kept on ventilated decks. Fresh water is also supplied and pets are checked regularly throughout the voyage.
What's your pick?
Is your favourite dog-friendly holiday destination not featured here? Email dogslife@universalmagazines.com.au to let us know where you and your pooch love to travel.
We put out a call to our followers on Facebook for their hot tips on great spots to visit on a dog-friendly holiday. Here are a few of the best suggestions:
"Ballina!! We have a dog park and The Spit (beach on the Richmond River). Such an awesome sight seeing all the great and small having a social time out." — Tania Jaeger
"Fyansford common, behind the Fyansford pub in Geelong, Victoria. It's a fantastic area where dogs of all sizes can run around and swim together." — Helen Preston
"Red Head Beach, Lake Macquarie NSW." — Jane Wilde
Protect against ticks
If you're visiting the east coast of Australia, make sure your dog is protected against paralysis ticks. Ask your vet for advice on what you can do to safeguard your pet.
Make sure your furry friend is always looked after at our
DOGSLife Directory