June 21st, 2021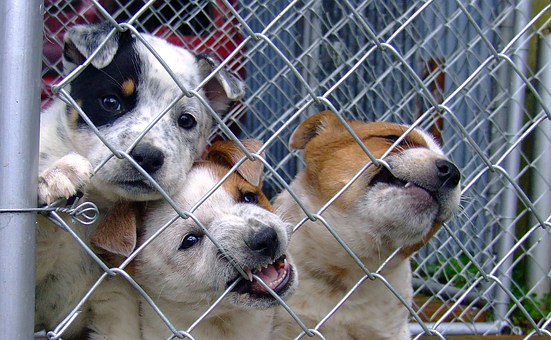 Want to adopt but don't know where to start? Lauren Clarke finds out more.
With thousands of dogs across Australia and New Zealand sent to shelters every year, the rescue market is sadly booming. Giving a new forever home to an animal is one of the best things you can do, both for the dog and yourself.
There are many reasons to choose a rescue. Often, people put their pets up for adoption because their circumstances change due to international moves, relationship breakdowns or family additions, meaning the dog isn't broken — it's just got the raw end of the deal. Despite what you may think, rescue doesn't have to mean the dog was poorly behaved or riddled with health problems. On top of that, rescue pets have some of the biggest hearts the DOGSLife team has ever encountered.
But if you do decide to adopt instead of shop, how do you go about choosing the right pet?
Do your research
Before you visit your local shelter or pound, make sure you do your research. Visiting places like this can be very confronting, so you want to go in armed with knowledge — too many sets of pleading puppy eyes could see you biting off more than you can chew.
"Discuss your choice of pets with your family members. Do you want a large dog, a quiet cat, one of each? Having an idea of what you are looking for will help you when it comes to viewing pets in a shelter environment," says Dr Jo Righetti from Pet Problems Solved.
As well as discussing the pet choice with your family, you should consider any existing pets in your household. Do you have a smaller dog that doesn't enjoy the attention of larger ones? An old pooch whose tolerance for young pups is low? Ask these questions now to avoid disappointment later. "And remember that shelters and pounds have all breeds and ages, not just mixed-breed older animals, as is commonly believed," says Dr Jo.
Once you've narrowed down your criteria, Dr Jo recommends looking online before visiting in person. "Most shelters and pounds now list their available cats and dogs online. This gives you the opportunity to ensure the age, size and/or breed of pet you are considering is available and, in some cases, to check out other information, such as its suitability with other pets," she says.
Finally, when you've selected the pet you think may be right for you, it's time to visit the shelter in person.
Visiting the shelter
When you visit the shelter, make sure you have a list of questions prepared for the shelter staff on the dog's temperament. "Many shelters conduct behavioural assessments on animals in their care and they should have an idea of the animal's personality, any issues they have and who will be a suitable prospective owner," Dr Jo says. This will help you choose the best dog for your lifestyle.
Not only should you meet the animal you're interested in, but it's recommended that you introduce your whole family to the pet before you bring it home to avoid any potential personality conflicts. If you have children, it's recommended you bring them in only after you have a pet in mind, and make sure you explain the visit to them. "Any animal you are considering should show signs of being relaxed around your children, happy to approach them, and not tense or attempt to get away," Dr Jo says.
This introductory phase even includes the new animal meeting your existing pets. Make sure you check with shelter staff first, but many rescue groups will allow you to do this to ensure you find your perfect doggy match.
Whether you think you've found your perfect pet or not, it's okay to leave the shelter without taking an animal with you. In fact, many rescue groups encourage taking some time to think about your decision. If you don't believe any animal there was the right fit for your lifestyle or family, that is also okay. "You have to live with this animal for many years, so taking time to make a decision is in your best interest and that of the pet," says Dr Jo. "Even if you have not found your perfect match this visit, you can guarantee there will be new pets available next time."
Finally, be prepared to clear your schedule after the shelter visit for some "you" time. Visiting a shelter can be a very emotional experience, with many rows of animals looking for a new home, some who have been looking for many years. "Be prepared to shed a few tears and stay firm in your decision to choose a pet that is a good fit for your lifestyle," adds Dr Jo.
Bringing Fido home
Once you've made your decision, it's time to bring your new pet home. Before you do, Dr Jo recommends finding out as much as possible about this new family member. "Has it been vet checked, desexed, had flea medication?"
It's also important to find out what food the dog has been eating and if you do want to make a change, do so gradually over a 10-day period where you lessen the old food and introduce your preference to avoid any potential stomach troubles.
Once you get home, ensure the dog has a room or space to itself for a while to help it settle in. Giving your shelter pet a room to retreat to can help prevent it from getting stressed if the situation becomes overwhelming.
"Most adopted pets quickly settle in and become part of the family," Dr Jo says. She also recommends that you let the shelter know everything has progressed well. "Shelters love success stories, so be sure to let them know and share some photos of your pet enjoying its new home."
For more of Dr Jo's great information, visit petproblemssolved.com.au
Make sure your furry friend is always looked after at our
DOGSLife Directory