February 14th, 2018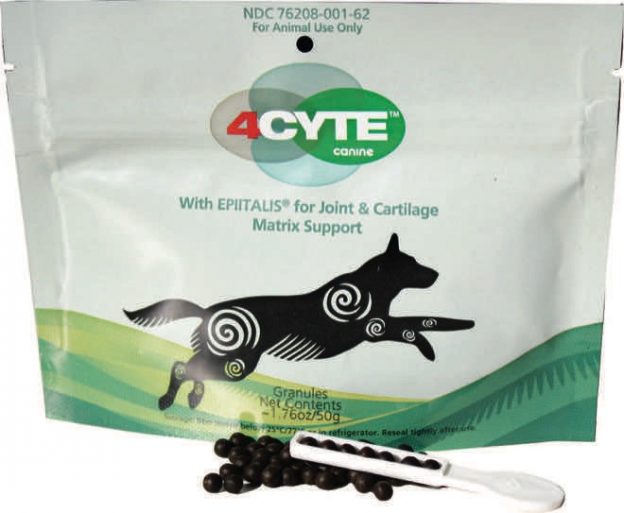 Often by the time a dog shows signs of lameness, it has had the underlying issue for some time. It is estimated that 55 per cent of joint pain goes untreated.
4CYTE Canine is scientifically developed and is safe to take long-term, meaning you can support your dog's joints no matter what stage of life they are at. 4CYTE contains a newly discovered plant active, Epiitalis, and because of its unique mode of action, has been patented to:
Actively stimulate the cartilage cells, tipping the balance back in favour of the production of healthy cartilage instead of degeneration.
Suppress the chemicals responsible for inflammation.
4CYTE Canine comes in convenient granules and is given daily to address signs of stiffness, support joint conditions, offer support for healing after a joint injury or operation, boost the body's ability to meet performance and recuperation, as well as improve and maintain healthy joints at any stage of life.
Target the cause, not just the symptoms with 4CYTE Canine.
For more information, visit 4cytevet.com
Competition closes March 22, 2018. Winners drawn on April 12, 2018.
Please remember to sign in and update the Contact Info for Competition section and read the Condition of Entry before entering.
For more great ideas, visit our
DOGSLife Directory