August 3rd, 2018
Looking to bring a new pooch into your home? Melanie Hearse asks the experts what you should consider to ensure you pick the perfect match for your family.
Nothing adds joy to a family like a new pooch and there certainly isn't anything sweeter than a puppy. But at the risk of sounding like a grouch, puppies don't stay small forever, and some of them can grow into pretty massive dogs with a side order of potential behavioural problems if you don't choose a dog suited to your home and lifestyle, or your expectations. Here are the questions you need to ask to find your perfect match.
Are you worthy?
Before you even get started on the hunt for your best new pal, the most important questions you need to ask are to yourself, and they centre on whether or not you'll make a good owner to your intended pet. The RSCPA recommends pondering whether you really want to exercise a dog every day, if there will be someone at home often enough to give it adequate care and attention, and if you have time to train, groom and generally care for a dog.
Another key factor is cost. Before you bring home any puppy, the RSPCA says you need to be sure you can provide for him or her. Before buying or adopting a dog, you must ask yourself if you can afford the costs involved in owning a dog. This will include food, which will vary between breeds, standard medications, treatments to keep your pet healthy (think worming and flea prevention) and veterinary fees for accidents, standard vaccinations and check-ups.
Crystal ball time
Give thought to the home you are bringing your new pet into and ask yourself these questions:
What kind of time do you have to offer?
How many of you are there?
What age are any children and is this likely to be the size of your family for the next 10 years or so? If not, think about what size family you envision and when you think it may happen — soon or not until the dog is older? It may sound silly but if you are planning to have babies in the next few years, a breed that requires constant attention is likely to feel quite neglected when your new bubs keep you busy, while some breeds may be content to simply share your company through this time.
The kind of house you live in is also a factor (tiny apartments and Great Danes may not mix), as is the temperament you are looking for — are you after a dog who is laid-back and sedate, or an active pooch keen to keep up with a fitness-focused lifestyle? If you're envisaging loads of time chilling on the couch together and you pick a breed that prefers to go out running and playing a lot, you are likely to become unhappy with one another. This is where destructive or antisocial behaviour crops up.
Not an only fur child?
If you've already got existing pets, their temperament and size needs to be a factor. For example, we have a Staffordshire Bull Terrier and he loves other dogs, though sometimes a little too enthusiastically.
My eldest requested that our second dog be one that was a tad less energetic; that would spend most of his time calmly sitting with my son. He landed on the tiny, fine-boned Papillion, which we had to point out was physically too delicate to play with our Staffy, and that he'd spend most of his life miserable at Dash's attentions.
We did our internet research, then talked to some vets about what we needed — a more sedate personality that was physically sturdy (but still lap-sized) and would actively enjoy the energy a Staffy has. With a little searching, we found the perfect match in a Cavalier Cocker Spaniel mixed-breed puppy — he loves playing rough with Dash, but he's incredibly gentle with people.
Where do you want to get your puppy?
Now that you've narrowed down the type of dog you'd like, it's time to think about where to get him or her. So as not to support puppy mills, the RSCPA recommends only going through a registered breeder or an animal shelter to adopt. Shelters are filled with dogs — including puppies — that are looking for a home. Many breeds also have rescue organisations dedicated to their type of dog, so it is worth getting in touch with them, too.
If you go to a shelter, take the time to ask a lot of questions — you may not have considered the breed of a pooch that takes your fancy, but you've certainly put in the time thinking about what you have to offer and what you are looking for in an adopted pooch. Shelter and rescue staff are dedicated to making sure animals are only placed in suitable homes (don't expect to walk in and out with a puppy in one day). Talk to them about what you've decided will suit you and why, as well as what your situation is, and they'll be able to make sure you and your new pet are a good match for each other.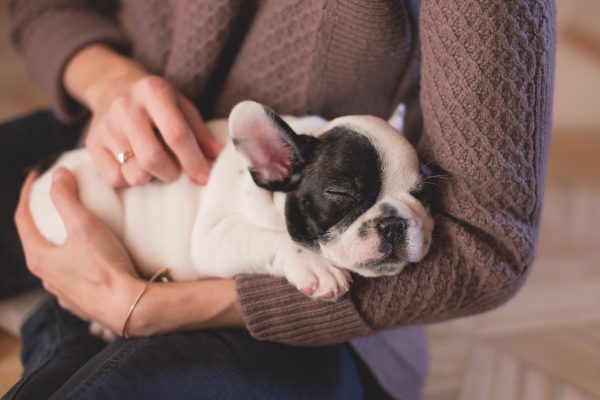 Choosing the right breeder
Responsible breeders are dedicated to the health and wellbeing of their chosen breed. The RSPCA says healthy puppies come from breeders who plan ahead and aim to find good homes for every puppy they breed, provide a high standard of care and living conditions for all their dogs and are genuinely concerned about the welfare of dogs. As well as using your eyes on arrival, you should also only buy a puppy from a breeder that is open to questions and happy to provide a complete history of the puppy and provide references on request — they should also be interested in asking you questions, as they should be very keen to ensure you'll provide a suitable home for their pup. Also, look for a breeder willing to provide ongoing support to you long after your pooch goes home
A registered breeder who belongs to an association is a good start but the RSPCA cautions this is not enough, stating that while breed associations do have rules and guidelines for their members, being "registered" does not necessarily mean a breeder is responsible or meets good animal welfare standards. To make sure you've chosen a responsible breeder, you need to ask the right questions and look around the premises before you buy.
So what should you be asking?
Staffordshire Bull Terrier breeder Trudy Desmond says the kinds of questions you should be asking a breeder include:
Are the parents clear of diseases inherent to the breed and can you see the certificates? For example, with Staffies, you'd ask if the parents were clear for L-2-HGA and hereditary cataracts and you would ask to see the certificates. If the parents are clear, it means the pups are clear by parentage.
How far back do the pup's blood lines go?
Are the sellers registered breeders? (You can then check this registration with the relevant bodies.)
Can I view the parents' papers?
What are the parents' temperaments?
Can I view the pups?
How many litters has the bitch had?
Can I call your vet? The vet should know the breeders well and will be able to provide a reference.
Any dog owner knows there's also that little bit of magic that happens when you meet "the one" and that dogs choose you as much as you choose them. But puppies are adorable little creatures and easy to lose your heart to, so save yourself a bad match by using your head before you even leave the front door.