August 31st, 2018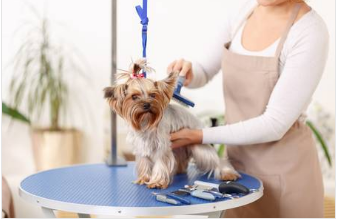 Have you ever imagined entering a dog grooming competition? Caroline Zambrano learns what it takes to fur-style for a prize.
Competing in a room full of professional dog groomers and a watchful public can be daunting for anyone, regardless of the level of grooming and competition experience they have. It can also be stressful, even at the best of times.
But putting aside the pressures involved, competing in grooming competitions allows you to showcase your skills and assess your work, which makes you a better groomer at the end of the day, according to international award-winning grooming expert and competition judge Sharon Hall.
"Grooming competitions are certainly not for everyone because it is most stressful at the best of times. But anyone can compete, giving them an opportunity to grow as a groomer and become a successful competitor," she says.
Sharon is an International Certified Master Groomer from NSW and enjoys sharing her 20-plus years' grooming and competition experience and knowledge, as well as helping groomers excel in their field.
"For many years, groomers have gone about their jobs on a day-to-day basis making their customers happy with their service, and there is nothing wrong with that. However, many groomers have had very little training and perhaps have learnt on the job or are self-taught through books or videos. Entering a competition allows you to showcase your skills and get a gauge on how you are going with your work," she says.
Competing helped Sharon improve her grooming skills. Working with breeds that she may not have been as familiar with or seen often in her salon also helped her learn all she could about certain breeds.
"Grooming dogs is a passion we have and the more we learn, the more we want to learn. I find competing is the best way to do this," she says.
However, competitions are also physically demanding and can be stressful, especially when traveling across the country tugging along animals and grooming equipment.
What does it take?
To gain the most out of a competition, it's important to be able to take constructive criticism and advice from judges and even fellow competitors, Sharon says. "Keeping a level head, being aware of how you are handling your dog and staying focused are also good qualities to have."
Groomers of varying levels attend competitions.
"Many groomers compete to gain the judges' critique and to learn more on a breed they may not be as familiar with and want to get more experience," she says. "Others might compete with a breed they feel they do well with and are interested in showcasing their skills to achieve a frilly ribbon they can proudly hang in their workplace to show customers of their achievements."
Competing is not always easy, but it's what will make you grow as a groomer and become a successful competitor, Sharon says. "Spend time trying to understand and work out how you can use the feedback to improve your grooming work."
Behind the scenes
Competing is much more intense than grooming a dog in the workplace or at home and requires a lot of preparation behind the scenes.
Often groomers can expect to be in a competition ring for more than three hours. This involves pre-judging, competition time (depending on the breed, can be anywhere from 1.5 hours to 2.5 hours) and then being judged.
"You will need a dog that will be happy to stand for a long period of time," Sharon advises. "Often older dogs or unhealthy dogs are not ideal as they will want to lie down and rest periodically. Fit, healthy dogs are ideal and enjoy the attention they receive."
Get smart
Getting educated about grooming also contributes to being a successful competitor.
"It is advantageous to attend a workshop with the dog you wish to compete with, so you can get some advice and confidence on what a judge is going to be looking for," Sharon says.
Grooming workshops also help you with your prep work — which is the most important part of competing — and your timing, so you have a better chance at completing your groom on the day, she adds.
Expert advice
Natasha Finch (aka Tash), an experienced groomer from Queensland, has collected many competition awards over the years and aims to compete internationally some day.
Hooked on dog grooming since the age of 15, Tash now runs her own grooming salon and became the Pet Industry Association of Australia's 2015 Brisbane Royal State Grooming Champion, continuing on to represent Queensland at the national PIAA Supreme Royal Grooming Championships in 2016.
"There is a lot more to being a competitive dog groomer then meets the eye. It takes drive, determination and passion for what you do and, of course, a love of dogs," Tash says. "Lots of researching, dedication and hours of practise are also essential to preparing yourself for competition."
Aside from loving what she does, Tash works hard in preparing for a grooming competition.
"Many months, sometimes years go into preparing a dog and, of course, getting myself ready," she says. "I try to make every groom better than the last! I also prepare by timing myself. I pretend that I'm in a competition and only have a couple of hours to fully scissor the dog three times over."
Tash prepares herself for grooming competitions also by studying breed standards, looking at photos of show dogs to help find a style she likes and that suits the dog's body structure, and asking opinions and getting advice from groomers she looks up to.
"It's important to have an open mind to constructive criticism; it's the best way to better yourself and your skills as a groomer," Tash says. "Although we all want to win, only one person can, and to be able to look at another groom and respect how beautiful it is can really help you grow and have new creative ideas for your next competition."
Never get discouraged if you don't place, Tash says. "Take on board your judge's opinion, look at photos and practise. Then come back next time and impress everyone with how much you have grown. We are all learning every day and I'm sure we could all teach each other a lot."
Tash also attends seminars when she can and regularly communicates with other groomers and breeders who specialise in the breed she's trying to improve on.
"I always want to be better and seek perfection. Grooming dogs every day helps a lot!" she says. "The only way to be a good competitive groomer is to get out there and give it a go. Competing in grooming competitions is the main reason why I've grown as a groomer and as a person."
Grooming for beginners
Caitlin Howship, a 20-year-old dog groomer from Canberra, competed in her first dog grooming competition after working as a professional groomer for only five months. Not only that, she took home first prize!
Caitlin began her grooming career as a bather in a grooming salon and moved up quickly to become a full-time groomer, enjoying every second of it.
"I love learning about different styles and learning the skills to transform dogs into even more gorgeous bundles of fluff," she says.
Caitlin's first competition was the 2016 Dogs ACT Plush Puppy Grooming Competition, presented by the Pet Industry Association of Australia, held in Canberra. She won the Novice class and was awarded Best in Novice Group.
"I like to compete in order to gain grooming experience, as well as showcase my skills to people who are keen to watch. The idea that I get to show people what I love to do is so exciting!" she says.
Many groomers in the industry who have been competing for years love to mentor others, Caitlin says.
"So if you are shy and unsure where to start in competing, contact groomers via email or Facebook and ask if there is anyone interested in helping you to get started," she advises.
Caitlin has also made wonderful lifelong friends by competing in dog grooming competitions. "We help each other with prepping, keeping each other calm before a competition and even helping to supply dogs to one another to compete with," she says. "When we compete, we are competing against one another, but there is nothing better than knowing your good friends have achieved their goals even if you may have not."
Caitlin's advice to novice dog groomers who are interested in competing is to "just get out there and give it a go!"
Grooming extremes
So you think you can transform your dog into a panda or camel? Creative dog grooming, sometimes referred to as "extreme dog grooming", involves groomers creating decorative designs in dogs' coats.
Groomers trim and shape the coat but instead of sticking to breed-specific designs, they create art, sculpting the dogs' coats into shapes of characters (think Wonder Woman or Big Bird from Sesame Street) and even wild animals such as lions and zebras. Then, they dye the coats to create the colourful masterpiece.
If you want to give creative grooming a go, contact the Pet Industry Association of Australia (piaa.net.au) for more information.
Make sure your furry friend is always looked after at our
DOGSLife Directory