July 1st, 2021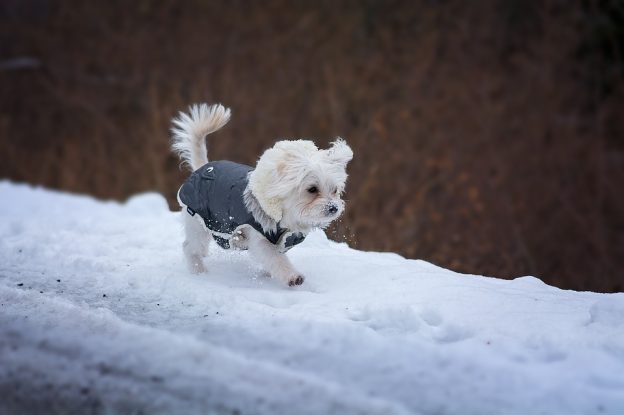 Keeping your dog warm in winter should be a priority for all pet owners. Carrol Baker explains how.
From cool coats to boots with bling and thermos-cushioned beds, keeping your dog warm, cosy and comfortable this winter couldn't be easier (or more stylish).
Rugging up
In winter, larger breeds of dogs with long coats such as Huskies and German Shepherds can weather the cold a little easier than smaller breeds such as Chihuahuas. Dogs that are underweight or lean breeds including Greyhounds, puppies and senior pets are also more susceptible to winter chills, but there are many things you can do to keep your dog happy, healthy and toasty warm this winter.
One easy way to keep your dog snug on cold days is with a coat. Whether it's designer duds, pet-store apparel or a coat you've created yourself, ensuring that your dog's jacket has insulating properties and is the right size is key to keeping him warm.
"A coat should fit from the base of the neck right through to the tail so the core of the body is kept warm," Dr Natalya Higgins from Greencross Vets Ocean Reef says. "Make sure it's not too constrictive around the neck and the legs, so it's comfortable to wear."
If your dog doesn't like wearing the new doggy coat you've selected for her, be patient. Just like wearing in a new pair of shoes, it can take time for your pet to adjust. And if your dog simply won't tolerate her new coat, try another style.
Keeping warm indoors
There's nothing better to chase the winter chills away than sitting by a fire or heater. There are many different types of heaters to help warm you and your pet from gas space heaters to reverse-cycle-air conditioners, electric heaters and more. But you need to take care. Dr Natalya says a dog should never be left unsupervised by a heater or fireplace. "Boisterous play can knock over a heater and you can risk burnt noses or paw pads if a dog sits to close," she says. If you have an open fire, this should be properly screened to avoid mishaps. And be careful of electrical cords from heaters as some dogs like to chew them.
"If a dog does burn itself being too close to the heater or fire, cool the region with cool water and take the pet to a veterinary hospital," Dr Natalya advises.
Cold windy winters can also lead to dry skin. Supplement your pet's diet with fish oil, high in omega-3, it helps prevent dryness of the skin, Dr Natalya says. And if your pet suffers from arthritis, which can flare up in winter, fish oil may help.
Snooze time
Make sure your dog's indoor bed is placed in a draft-free area and use draft stoppers to prevent cold air sneaking in under doorways.
Bedding needs to be lifted from the floor if it's positioned on concrete or tiles, as these surfaces can retain the cold. On cold nights, you can also pop in a hot-water bottle filled with warm water. Dr Natalya says to make sure the water isn't boiling in the hot-water bottle and that the bottle should be wrapped in a towel or blanket, not directly touching your pet's skin. You could also use a thermal self-heating bed to keep your pooch comfortable in winter.
Ideally, on cold nights, your dog will be more comfortable indoors; however, if he does sleep outside, reposition the kennel to catch the warming winter sun. To keep out chilly winter winds, add flaps to the kennel door.
A winter fur-do
While summer is the ideal time to clip your long-haired dog's fur to keep him cool, in winter the reverse is true. Long fur provides warmth and insulation helping to keep your dog snug, so don't clip your dog's fur too short.
With a thicker natural winter coat, many dogs need to be brushed more frequently to reduce matting and to remove dirt and debris from the fur, especially if the two of you go for long walks on wet days. "A dirty, matted coat isn't going to keep your dog warm," Dr Natalya says. "After a brush and a bath, be sure to dry your dog's coat thoroughly."
Taking care in the car
If you take your dog for outings in the car in winter, don't leave her unattended. In cooler areas, the temperature can plummet extremely quickly without the heating on.
Make sure your furry friend is always looked after at our
DOGSLife Directory