September 7th, 2018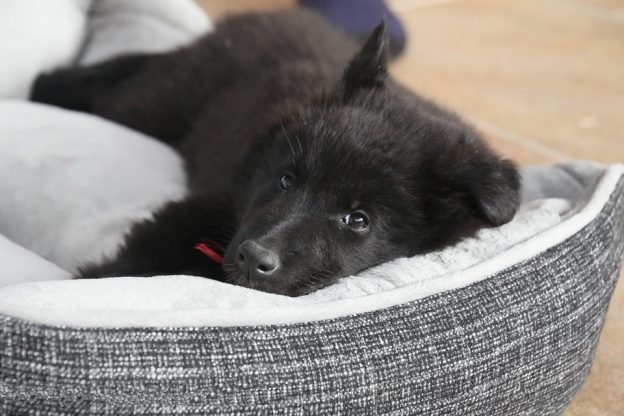 You want your dog to snooze the night away in comfort, right? Lauren McKellar asks three key members of the canine industry what you should consider when choosing a dog bed.
Choosing a bed can feel like a daunting task. With so many different options ranging in price from the very cheap to the downright ridiculous, it can be hard knowing what features to look out for. DOGSLife asks three prominent members of the pet industry their thoughts on what to look for when choosing a bed.
"When it comes to choosing the right bed, always keep your best friend in mind and consider their size, sleeping habits, coat type and the features you need. At DOGUE, we have a variety of bed types to suit every sleeper. Bolster beds have raised sides and provide a sense of security and comfort, a great choice for anxious dogs or those who like to curl up when sleeping. Side-less beds are popular for sprawlers and larger breeds and if your furry friend is older, an orthopaedic bed will help maintain body heat and provide support for aching joints. Whatever bed you choose, make sure it has removable covers and is machine washable."
"My advice would differ depending on the individual pet and their needs as well as where the bed is intended to be used, but I would say when choosing the best bed for your pet, there is no 'one size fits all'. Choose one that is comfortable and supportive, easy for your pet to get in and out of, simple to clean and of high quality. You get what you pay for and it's worthwhile investing in a good bed, especially for senior pets that can really benefit from good insulation and support for their joints."
"The bed should be large enough for your pet to be able to turn around in bed. Many animals like a soft wall up against their back but this is trial and error. If your dog chews, it may be worth investing in a chew-proof bed (although nothing is guaranteed indestructible in the pet world!). Your pet may require more than one bed, if you are to indulge them. Have one in the family room and one where they sleep at night, eg your bedroom. Most pets love to sleep next to their owners, so a pet bed next to your bed is often ideal."
Other tips and tricks
Of course, just buying the right bed isn't enough to guarantee your pet a good night's sleep. Dr Jo Righetti emphasises that the location of the bed is just as important as the type you purchase. "The bed should be in a quieter spot away from traffic, although many dogs prefer to be within the body of the home, rather than shut away," she says. "Outdoor beds should be located in dry, draft-proof areas."
It's good to offer dogs treats and affection to at first entice them to use the new bed and then leave them to their own devices. "Children should be taught that when a pet is in their bed, they are to be left alone. This is their safe spot," Dr Jo says.
Make sure your furry friend is always looked after at our
DOGSLife Directory