August 24th, 2018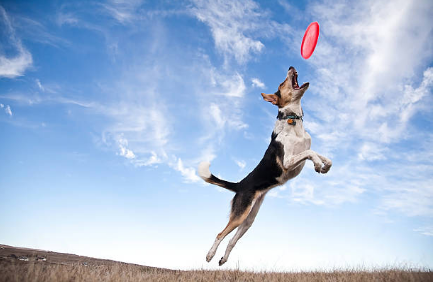 Is your dog a pro when it comes to the game of fetch? Maybe you should give canine disc a try. By Lauren McKellar
The sport of canine disc is not a new one, having originated in the 1970s in America, but it certainly has experienced a growth in popularity in the land down under during recent years. Founded in Australia by Damian and Karen Noud in 2003, the governing body was originally named the Australian Canine Disc Association, primarily focused on and centred in Brisbane with a group of approximately 20 to 30 members.
However, in 2012 a change occurred. Participants in the sport were getting more and more passionate, and desperate to take the group from something small to a bigger movement, bringing canine disc to more people. "We formed a board of directors and renamed the group the Canine Disc Australia," Allison Britton, president, says. And so the popularity of the sport began.
"Since then, we've boomed ahead," Allison says. "We've taken it from a small member base to 220 members. A huge improvement from the 20 to 30 it was."
Huge improvement is right. Not only does the organisation boast these record numbers of members, but there are also 245 dogs registered to play, resulting in some fierce competition and a whole heap of good fun.
What is canine disc?
Canine disc is exactly what you think it is — basically, a more organised game of Frisbee. "If you've got a dog and a Frisbee, then you can play canine disc," Allison says.
Of course, it isn't quite as casual as what you might be used to at home. There are different formats played in canine disc, each with a specific set of rules and point systems.
"There's throw and catch — that's pretty self-explanatory. You throw the Frisbee and the dog catches it and brings it back," Allison says. "The further you throw, the more points you get if the dog catches the Frisbee on the full and brings it back."
There's also a freestyle canine disc session, where one person and one dog are out on the field with up to 10 discs. The trainer will go through a routine with the dog, set to a soundtrack of the participant's choosing. "The really good teams will try and choreograph their routine to the music and, as a judge, I think that's pretty cool. You might get extra points for knowing your music and your music should cue you in your routine for where you're up to."
There are a whole heap of other games played in the sport, including time trials, blackjack, fast fifty, and more. Most of these are based on the American version of the sport, but some of the games, including Double Up, have been innovated by Allison and the board and given a truly Aussie twist.
A sport for you
One of the best things about canine disc is that it's open to anyone with a dog that has the ability to catch and retrieve.
"We see all different breeds of dog playing," Allison says, listing some of the participants as Border Collies, Kelpies, Australian Cattle Dogs, Shetland Sheepdogs, German Short-haired Pointers, Jack Russell Terriers, Australian Koolies, Staffy crosses, Bull Arab crosses, and even a Miniature Poodle.
"The Border Collies are the most popular dog for dog sports at the moment," Allison says. "But there's a Boston Terrier competing at the moment. He's great to watch. Everyone really gets behind him when he catches the disc."
It's this welcoming attitude that is no doubt making the sport grow in popularity so drastically. What started as primarily a Queensland-based activity now has branches in New South Wales and Victoria, with members located throughout the country. With breed no barrier, it comes down to a willingness to participate and a very certain skill set.
"The desire to want to chase a Frisbee is the most important skill of all," Allison says, adding that catching it and returning it is also a necessary requirement. "Within the dogs, we're looking for their ability to track a Frisbee, too."
Sound like the perfect sport for you and your four-legged friend? Then get in touch with the Canine Disc Australia today to find out more.
"One of the big things we're about is safety," Allison says. "Frisbees you can buy from a pet shop aren't designed for this sport and can be dangerous to your pet. All discs sanctioned for competition here are imported from the USA, designed specifically with the sport of canine disc in mind."
Once you have the right tools, it's as simple as finding someone near you to take your skills further. As well as groups in Queensland, New South Wales and Victoria, there are club members throughout the country who the club can put you in touch with to help you get started.
"We have a Facebook group where anyone can ask questions," Allison says. "We're a friendly bunch and we really want to see the sport grow."
And with any luck, it will.
Events and competitions
There are many canine disc competitions held each year, with the biennial Nationals being the largest meet.
"We just had the Queensland State Championships," Allison says, adding that it's the third year they've run them under this new format. "The skills of our members are improving. I got to witness and judge one of the best rounds of Frisbee I've ever seen."
For more information, visit caninediscaustralia.com
Make sure your furry friend is always looked after at our
DOGSLife Directory